Long and hard: The Park City Endurance 100
Last weekend I got a taste of long-distance racing at the Park City Endurance 100. I wouldn't have said this during the race, but I still like bikes.

The course consists of five singletrack loops which weave between and above the Canyons, Park City and Deer Valley resorts. On some mountains you climb straight up then bomb straight down. In this trail network, you gain altitude like sand grains falling in an hourglass — a bit at a time. At the top you flip the hourglass over and drop and swoop and roll your way back to the bottom, where you have some food and flip the hourglass back over. At the Endurance 100 you gain 18,627 feet worth of sand.
Boris Lyubner is a Russian-born commercial illustrator who loves to ride and, like many a Russian before him, has taken on a seemingly impossible task. A ton of work went into organizing this beast, but the day started very quietly:
5:30 a.m. Blackness. We roll into the pits where Patrik, the Cannondale wrench, has already disemboweled the trailer. We set up our stuff, search for coffee.
5:45 Freewheels buzz. Riders roll to the restroom, around the RVs, away from their butterflies.
5:50 Tinker Juarez and a few others wait at the starting line. It's hard to believe a race is about to happen.
5:55 Riders appear out of the darkness and shuffle for position. A few lights, murmurs, anticipation.
5:59 Boris' voice booms across the field. "One minute to go."
5:59:30 "Thirty seconds!" 100 headlamps flick on. Cheers rise and my hairs stand. The energy just got turned to 11.
6:00 "Go!" The front guys sprint. The accordion rolls out one row at a time. It's still dark, but it's on baby!
On the first lap, lightning ripped along the ridge, and on lap four hail pelted the slower riders. Other than that, the day was sunny and nice. 57 men started and 37 finished. Tinker Juarez motored to win in 10:13:32. Despite the huge effort he only ate a bran muffin for breakfast the next day. Out of seven female starters, four finished. Lynda Wallenfels rolled a 12:44:18 for the win. I don't know what she ate for breakfast. Every rider out there was a super stud. Downhill racing is serious business, but this requires an entirely different kind of commitment and toughness.
As for me

I went to the E100 as part of a Cannondale new-bike launch. The Cannondale Rush is made for this type of long ride, and Cannondale invited a bunch of journalists out to try the bike in real-life agony. The real racers did the 100 miles solo. We had four teams of two journalists and one Cannondale person. The journalists would each do two loops, while the C-daler would ride one. That's just as well — this race course was basically five very good, very long rides, and two would be plenty for me.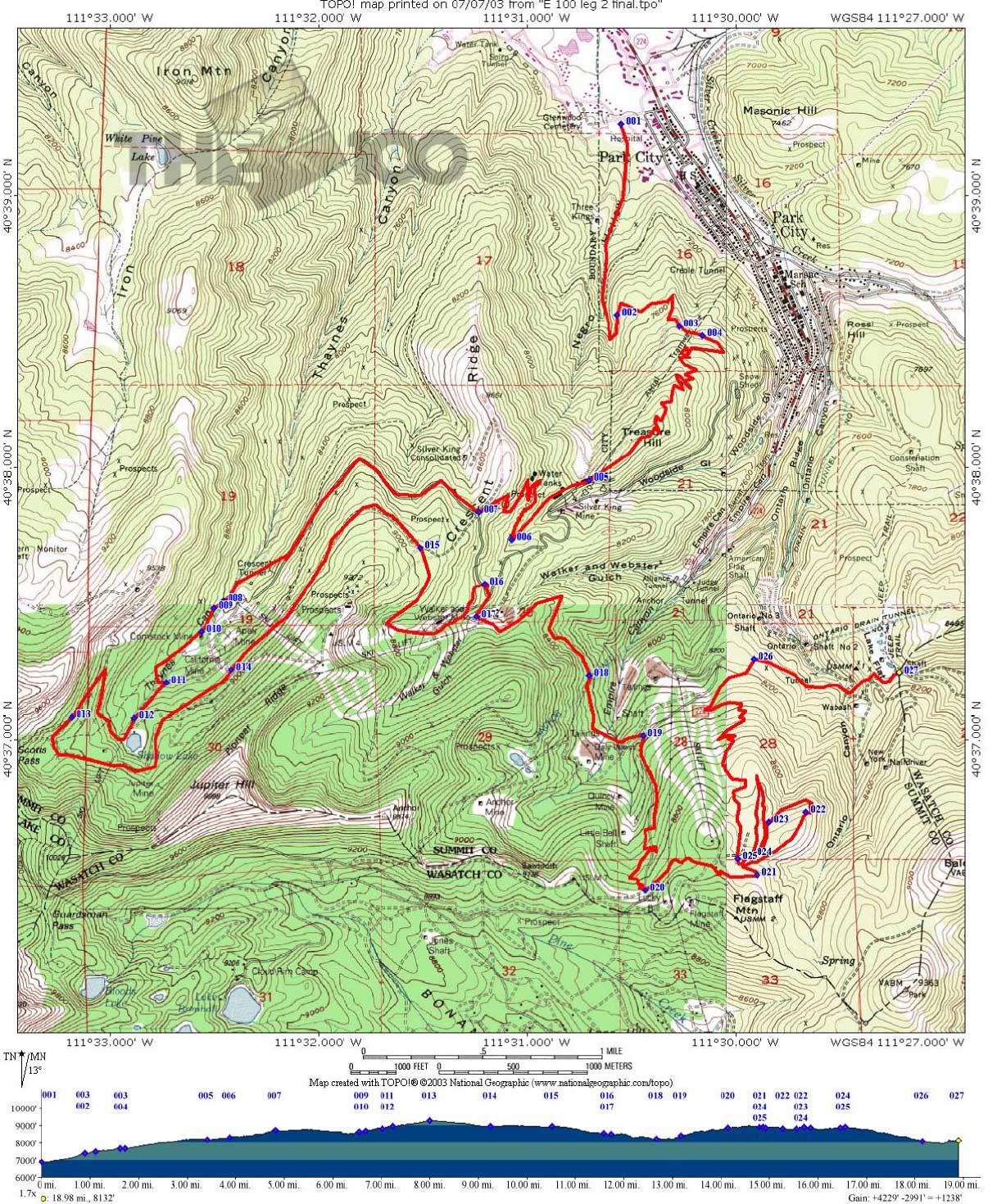 Loop 2, my first.
I haven't raced XC in 10 years, and I must say I now remember why. An hour into my first lap, I ground the cartilage under my left patella into an angry stew. After that I had to compensate with my right leg, that sciatic nerve went crazy. It hurt like a bastard, and all I could do was turn the pedals and wait for the end.
About 100 times, I had to re-calibrate my attention span. I'm used to maybe a 30-minute climb, then a rest, then a pinned descent. Do that a couple times then call it a day. At the Endurance 100 I'd look to the top of a mountain, grind my way up there thinking I'd be done, then have to climb the one behind it, or drop to the bottom then climb it again. What great Zen practice: Turn your pedals with the few muscles that don't hurt, live completely in the moment, and let the end come when it's ready. When the end of my first loop did come (after 4,200 feet of climbing) I was ready to be off the bike — for about a month.
I sat around the pits, kibitzed with the other riders and forced some food into my unhappy body. After a few hours I started liking the idea of another loop. We moved my saddle back a centimeter (to recruit more hip and less knee), and I went for it. For the first 13 minutes I felt fine, spinning up the switchbacks in the small ring and big cog, heart chugging at 140 bpm, just getting the job done. I heard something behind me and moved over to let Isaac Wilson, one of the world's winningest adventure racers, pass me. He was going at least twice as fast as I was, and he was doing it easily. The fat little boy in me whined, "Well, he might have won the Eco Challenge, but I won my 7th grade spelling bee."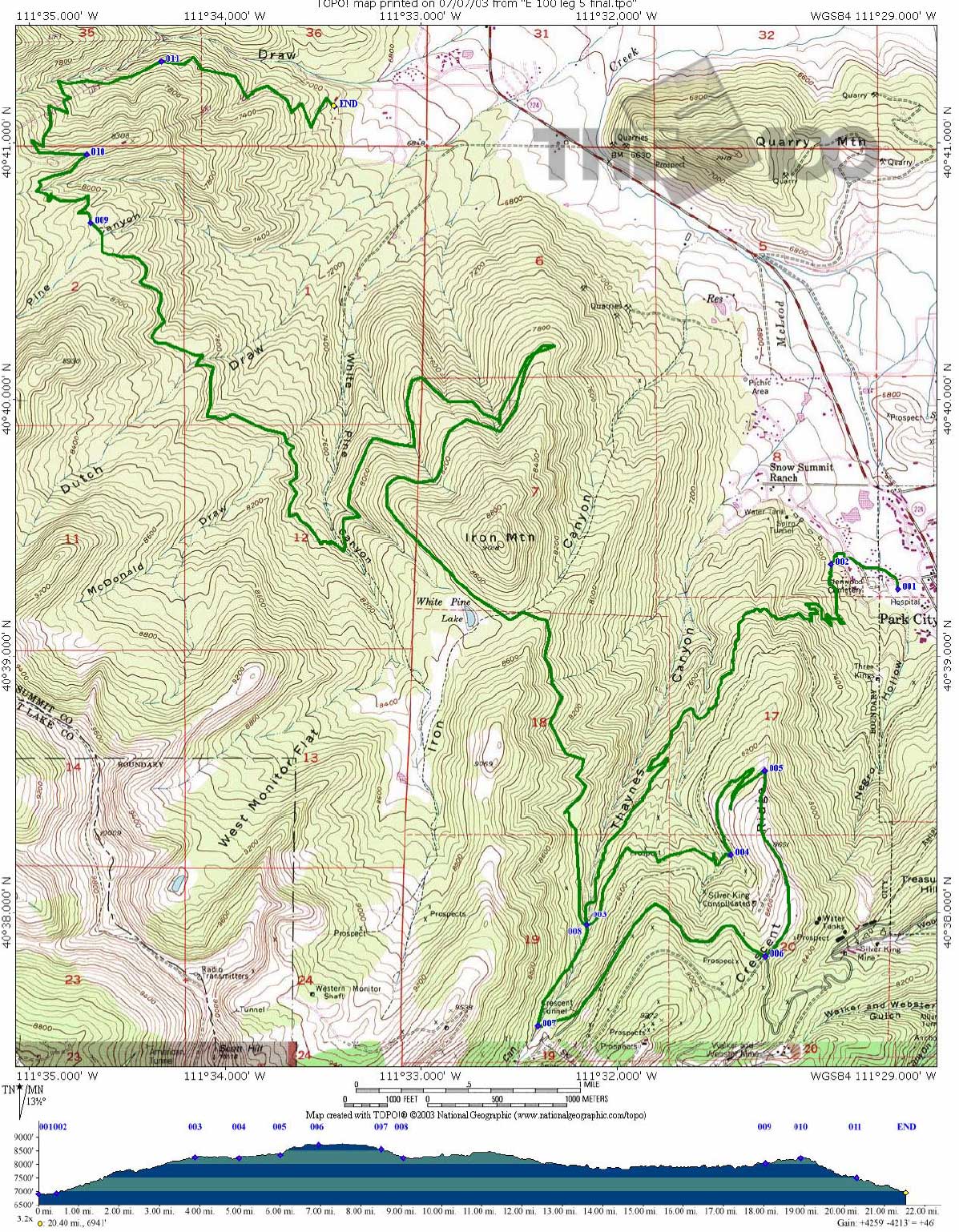 Loop 5, my second and last.
About then the knee started to hurt again. Within a few minutes it went from "oh, what's that feeling?" to "OOOOUUUCH!" I grabbed the middle ring and stood up for most of the remaining 4,000 vertical feet. Marco Pantani used to climb like this: Swing your hips back as you bring your foot to the top, straighten your leg to 3 o'clock, then drop your weight onto the pedal. This uses lots of hip power, and it preserves your legs and your knee stew.
At the very top of the ski area I encountered an adventure group. I asked for chemical help, and they gave me six Ibuprofen tablets and a can of Red Bull. Sweet! The terrain started to roll downward, and I let the bike go. Down, left, up, right. Swoop, swoop, swoop. Braaap, braaap, braaap.
As I rounded Bald Mountain, the greater valley opened up before me. I was railing along the skirts of this immense scene, and tears started welling up. It was just so cool, and majestic, and the Red Bull was in full effect. I big-ringed 10 miles along the rolly Mid Mountain Trail, up and down and up and down, but mostly down, and finally turned down toward the finish. Now it was really on. No brakes, barely able to see in the dusk light, letting the bike do its thing, feeling very proud and stoked but ready to get off the bike.
Right by the finish I noticed a little concrete retaining wall. Yes! I carved across and mini-hucked off it to catch a few feet of air and perfect backside to the finish line. The Cannondale guys cheered and handed me a cold beer. I hadn't ridden the full 100 miles, but I'd definitely pushed myself and done a pretty good job. My knee was ground to numbness, the Red Bull was still buzzing, and the beer lowered a drape over everything. It was a good day after all, and I still like bikes.
---
Props and thanks:
Stay on course

I clamped a top-of-the-line Garmin GPSMAP 60CS receiver onto my stem, and it became my little buddy. The course was marked with colored flags, but my Garmin contained the entire route, with about 200 reference points per loop. A compass arrow pointed at my next reference point and told me how far I had to go. Before each curve the GPS beeped, a map appeared and a purple line showed me which way to turn. With the Garmin handling all navigation, I was able to relax and look at the trail instead of the flags. One thing: When the arrow points directly behind you, prepare for a steep switchback! After a ride you can upload your data to www.motionbased.com, where you can track your workouts, animate your ride, share your ride and even download other people's rides. This is some very cool stuff. Garmin will soon launch a new line of cycling-specific GPS units. More details to come.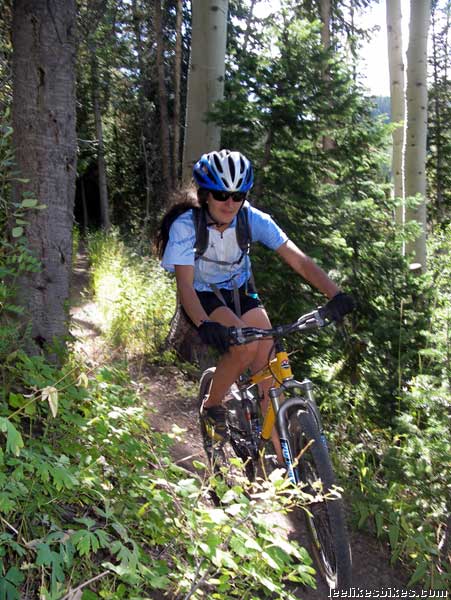 Thea led us on a sweet ride, and she seems to know singletrack as well as quiche.
Live well

The Treasure Mountain Inn stands at the top of Main Street in Park City — the perfect location for exploring the trails and stumbling around town. The owners, Andy and Thea, are bona fide mountain bad asses and will do whatever it takes to make their guests happy. Cook some homemade quiche for an early morning race? Done. Lead a bunch of journalists on a four-hour singletrack ride? Done. Everything in the renovated hotel is new, clean and spacious. This is good living, Park City style.
Double-extra thanks to Bill Rudell from Cannondale for assembling this adventure. Check out my writeup of the Cannondale Rush.
A more polished report will appear in the December issue of Mountain Biking magazine.
https://www.leelikesbikes.com/wp-content/uploads/2018/08/leelikesbikeslogoheader.jpg
0
0
leelikesbikes
https://www.leelikesbikes.com/wp-content/uploads/2018/08/leelikesbikeslogoheader.jpg
leelikesbikes
2005-09-01 14:56:36
2007-04-05 13:39:03
Long and hard: The Park City Endurance 100