Bike prep: Mammoth Super D
All you Type-A overachievers are trying to optimize your bikes for Mammoth's mammoth Super D. Well here's the deal.

Master Lee,
Did you do the Super D last year at Mammoth? I was thinking about doing Super D, but I need information on how much climbing there is and how I need to set up my bike. I am going to do it on my Blur 4x, but I am only running a 34 up front and an 11-23 in the rear. Hope to see you there.
Keith
---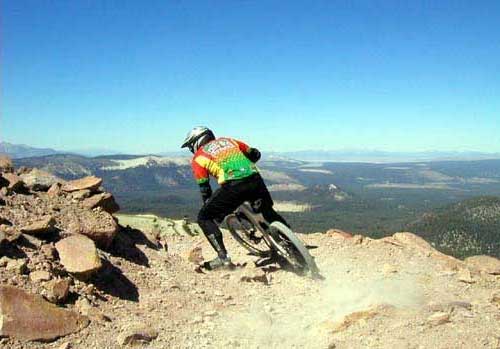 The second major turn on the Mammoth Super D course. Get ready for speed!
Mighty One (Keith and I have been battling for years),
Yes, I rocked that action. It was full XC. Almost 40 minutes with a significant climb. You'll want full seat post. That 34×23 will be a bit stiff. I know you can pull it, but you won't be spinning at the top of that climb. Bring tires that will hook in that loose pumice. It's hard to beat WTB Weir Wolves in Mammoth. The other standards — Maxxis Minions and High Rollers, Kenda Nevegals, Specialized Andrenalines — work well too.
Last year the course went:
– Fast traverse at 11,000 feet
– Bomber rocky descent (beware pinch flats)
– Bastard of a climb
– Long slightly downhill traverse
– Down the bottom of the Kamikaze course (fast!)
Last year I ran a 2005 Enduro, upon which I passed three people on the first descent — YES! — then got a rear flat — NO! This year I'm going tubeless, and I plan to run a 5″x5″ Brain-equipped 2006 Stumpjumper with a Gravity Dropper seatpost. Fancy!
See you there for sure!
— Lee
https://www.leelikesbikes.com/wp-content/uploads/2018/08/leelikesbikeslogoheader.jpg
0
0
leelikesbikes
https://www.leelikesbikes.com/wp-content/uploads/2018/08/leelikesbikeslogoheader.jpg
leelikesbikes
2005-09-06 14:21:22
2005-10-03 15:20:25
Bike prep: Mammoth Super D