Infineon nationals: another perspective
Mark Fitzsimmons, the racing team manager for FOX Racing Shox, offered these comments: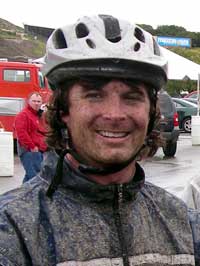 Fitzy: muddy and stoked after this year's FOX press ride. When he's not busy developing suspension or supporting racing, he's ripping.
– USA Cycling had to have the national championships in that two-week slot in order to get UCI points that count toward Olympic selection.
– "Chris Conroy [of Yeti Cycles] offered to have it at Snowmass, and they spoke about having it at Angel Fire. I don't know what happened there. At Fontana the NORBA guys talked to a few XC teams, and they said, 'Why not do it at Infineon?'"
– "It came down to laziness and easiness. When NORBA did that, they said, 'Downhill and 4X — we don't care.'"
– Because Infineon was originally a national series race, international racers will get to race it. "An American can get 10th and still be the national champion," Fitzy said. "I'm sure Mark Weir will do a good job with the course, and it'll be fun to ride. But it's embarrassing, to tell international racers this is what American downhilling is about now."
– "We [FOX] are thinking about taking our sponsorship out of the national series and putting it into the Mountain States Cup. They're legitimate events, at ski resorts, with real races."
---
Some clarification from Fitzsimmons:
All,
Please note that myself and FOX Racing Shox supports NORBA and USA Cycling 100% as the MSC is NORBA sanctioned. We are committed to the goal of improving and growing the sport of Mountain Biking in the US and around the globe. We take the aproach of how can we build on what exists and work towards improving it rather than spreading negative germs.
In addition we are not biased toward Gravity racing or Cross country. At the end of the day it's about riding a bicycle with knobbies and sharing that experience with others.
Cheers

Fitzy
https://www.leelikesbikes.com/wp-content/uploads/2018/08/leelikesbikeslogoheader.jpg
0
0
leelikesbikes
https://www.leelikesbikes.com/wp-content/uploads/2018/08/leelikesbikeslogoheader.jpg
leelikesbikes
2006-06-05 11:59:14
2006-06-07 13:59:46
Infineon nationals: another perspective