Great Expectations: Hare scramble madness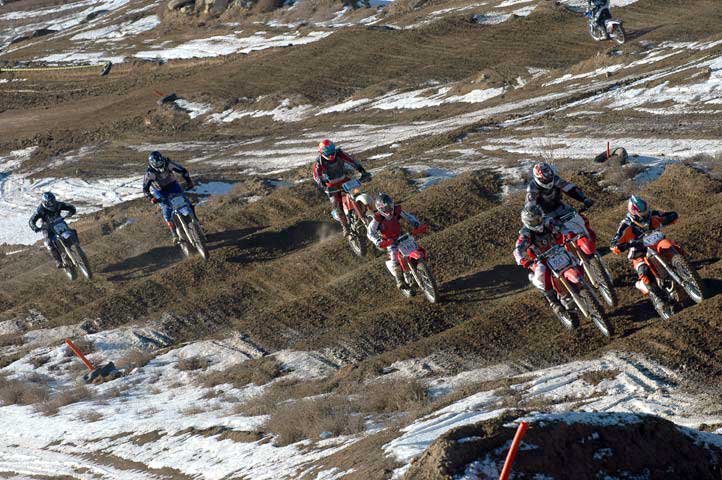 A few weeks ago I tried my first motorcycle hare scramble. It was two hours of braaap without expectations; just ripping around and enjoying the experience. I was afraid I'd start to get serious. Well, of course I did.

The more you click, the more I can post. Lee Likes Groceries dot com!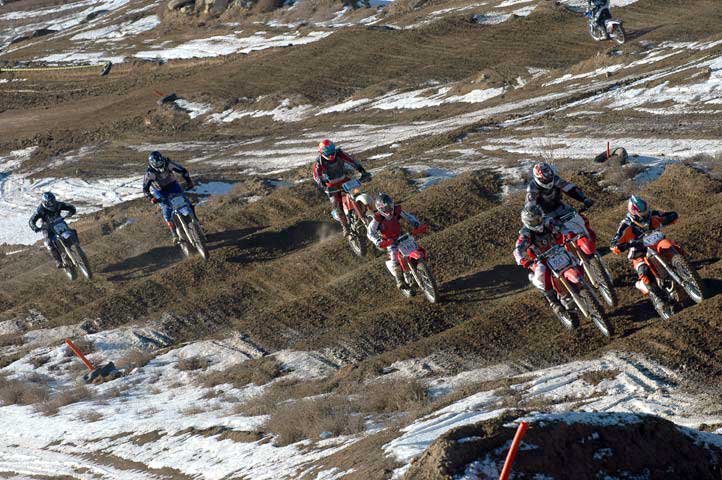 Whoops-ee-daisy. If you could double through these, you could pass like a champ. I did that — and got passed by the guys who tripled … Photos by Alex Clark.
Nothing like the first time
Last time I let everyone go. I cornered like a champ but rolled most of the jumps. My goggles fogged up so horribly I had to stop a few times. The whole experience was new, exciting and fun. I finished 18th out of 54: not bad for a first try. I was worried I'd start to get serious. I'm not the type who can braaap for two hours, say "Well that was pleasant," then go bass fishing.
No sir! After that first race I vowed to get my vision dialed and learn to jump. Last Friday I buttered a few more of the bigger jumps, and Saturday I put five coats of anti-fog on my glasses and goggles – after I checked every bolt on my new CRF250R. Come yesterday morning, it was on.
A heightened state of arousal
Engines revved, and each wave of racers shot fountains of mud into the air. My stomach fluttered and my heart pounded. My body was ready to fight, flee or both. Just take it easy, I thought, it's a long race.
BRAAAAAaaAAAaaaAAAAAAPPPPPP we took off. Bikes. Mud. Bodies. Wind. Roost. Colors. Speed.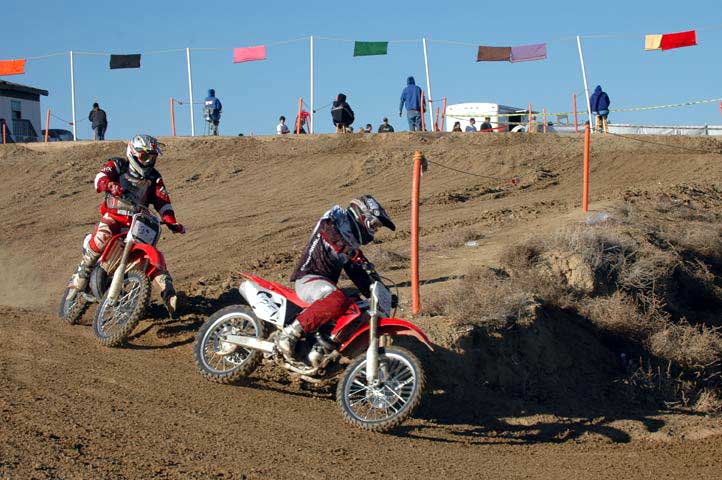 Aussie World Cup DHer Mick Hannah was out there (he's living in Colorado Springs). I think this is him.
I worked through traffic toward the front of the group. Everyone up here seemed to know their stuff. The lines were clean, but the roost — oh man — it was a machine gun of dirt clods aimed at my nose. Don't follow. Pass. Lead.
Two laps in, I was somewhere in the top 10, and some of the loose dirt began to expose frost. I made a pass 4th gear wide open, set up sideways into a 90-degree left then — whooAAooAAooAAA — I was off the bike. Damn! The mighty Honda was dormant, facing the wrong way on the main line. Motos wound around us, 1, 2, 8, 10, 12 … I picked it up, kicked, kicked and kicked, and it came to life.
At the checkpoint I was back in 25th. Dangit, I was doing so well. I pinned it: Jumping and passing, but not — I now realize — riding all that well. Too much arms and not enough legs. My hands pumped up. Checkpoint: 18th. Another lap: 16th. If I keep this up I'll be back in the top 10.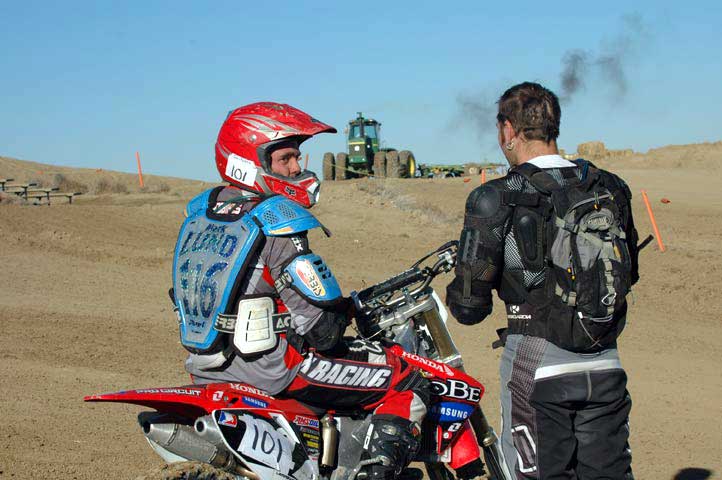 After. I had nothing to say, even to my man Sacha, who finished his first race only 90 seconds behind me.
My energy drink and my stomach began to disagree. The latter cramped, and the former stayed in my Camelback. My goggles didn't fog, but water droplets formed on my glasses. Every minute my prescription changed. The track bent like a fun house mirrow. Around lap 7 I started to poop out. The hands, the tummy, the eyes; it was hard to stay focused. I slowed down and rode to another 18th place finish.
So it turns out riding slow and steady is just as effective as riding fast then blowing up.
Next time
Gotta figure out the vision (Smith Turbo goggles have a little exhaust fan; that's next). Gotta figure out the energy drink. Keep getting faster and more confident. I'm trying not to obsess, but when I get my stuff together I'll be in the hunt!
Read about my first motorcycle hare scramble, a cross between motocross and enduro: Lee Likes Hare Scrambles
Click the ad, make Lee glad …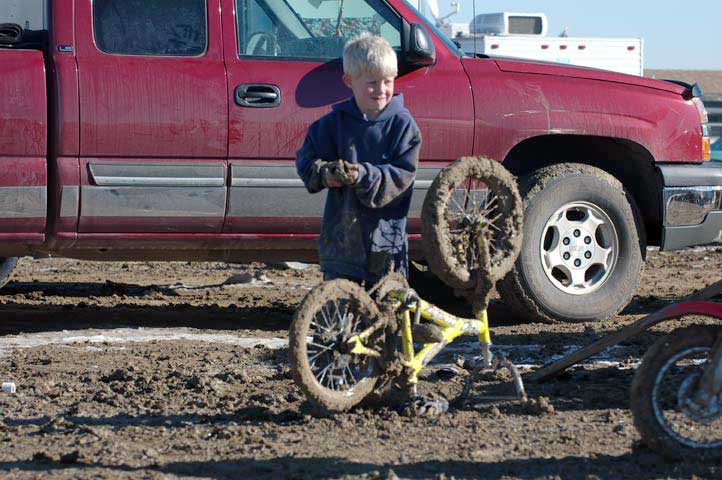 Mud!
https://www.leelikesbikes.com/wp-content/uploads/2018/08/leelikesbikeslogoheader.jpg
0
0
leelikesbikes
https://www.leelikesbikes.com/wp-content/uploads/2018/08/leelikesbikeslogoheader.jpg
leelikesbikes
2006-12-11 22:46:06
2006-12-12 10:06:44
Great Expectations: Hare scramble madness