Burning in a pump track, the fun way

Superior Bike Park is just about dialed. Time to chase details and burn a couple hundred laps on the main pump track.
Setup
Captain America with the Fox 831 fork locked out, the bars slammed as low as they go, a short seat post and Specialized Rhythm Lite tires.
• The Fox 831 is such a great fork for this application. I locked it out and set the blow-off threshold medium-hard. This yields almost as much pump as a rigid fork, yet it absorbs mistakes and settles into the corners. Rad.
• The lower bars feel great in braaap mode. They'll probably feel too low for seated pedaling.
• The X-Fusion Hilo 100 is working great, but I feel limited by the seat. A cut-off cheapo post got the seat an inch lower, and that's all I needed to feel free baby, free.
• I've been rocking the trusty Eskars on trails, but I wanted to try the Rhythm Lites. These tires are made for dirt jumping and pump tracking — and they rip! Very fast. Very non-squirmy. Good hookup in clean berms. Great braaap sound.
This experimental Stumpjumper HT EVO-R is turning out to be a lovely machine.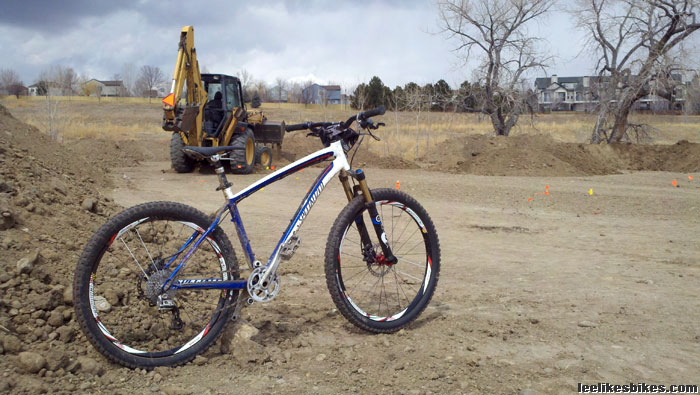 The Captain knows those flags are marking a sweet pump track. I lowered his bars and seat for today's adventure.
Yesterday's protocol
• 10 laps one way.
• Rest for a minute or so. Long enough to chat or let someone take a few laps.
• 10 laps the other way.
• Repeat for 100 laps.
Riding time: 24 minutes.
Today's protocol
• 50 laps one way, switching lead feet when I felt like it.
• Rest for a good while.
• 50 laps the other way, switching lead feet so the lead foot was on the inside of each turn. This was fun, and it felt fast.
Despite the 50-lap sets, my riding time was 24:30 — only 30 seconds longer than the 10-lap sets. I think I was getting smoother as I got more tired.
My effort level was right around lactate threshold. What a fun way to build base. And burn in the track. It's all about burning in the track.


The keys to endurance pump tracking: balance, vision, line choice and a sweet bike
---
Know more. Have more fun!
Join the leelikesbikes mailing list:
---
https://www.leelikesbikes.com/wp-content/uploads/2018/08/leelikesbikeslogoheader.jpg
0
0
leelikesbikes
https://www.leelikesbikes.com/wp-content/uploads/2018/08/leelikesbikeslogoheader.jpg
leelikesbikes
2011-03-15 22:26:30
2011-03-15 22:42:19
Burning in a pump track, the fun way