2011 Lyons Outdoor Games pump track worlds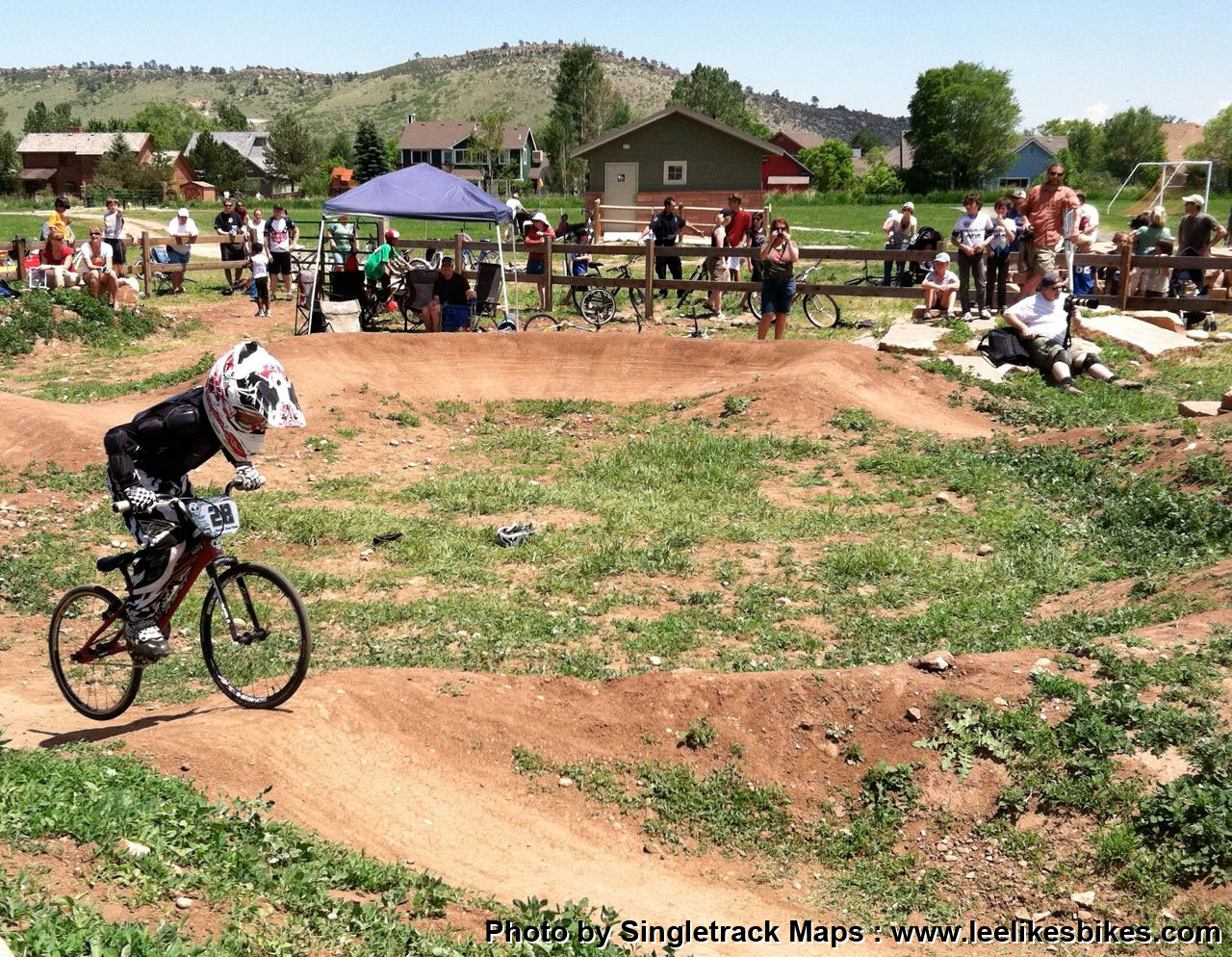 Yesterday we rocked the World Pump Track Championships at the Lyons Outdoor Games in Lyons, CO.
The event was smaller than hoped, but we had a gool ol' grassrootsy time.
---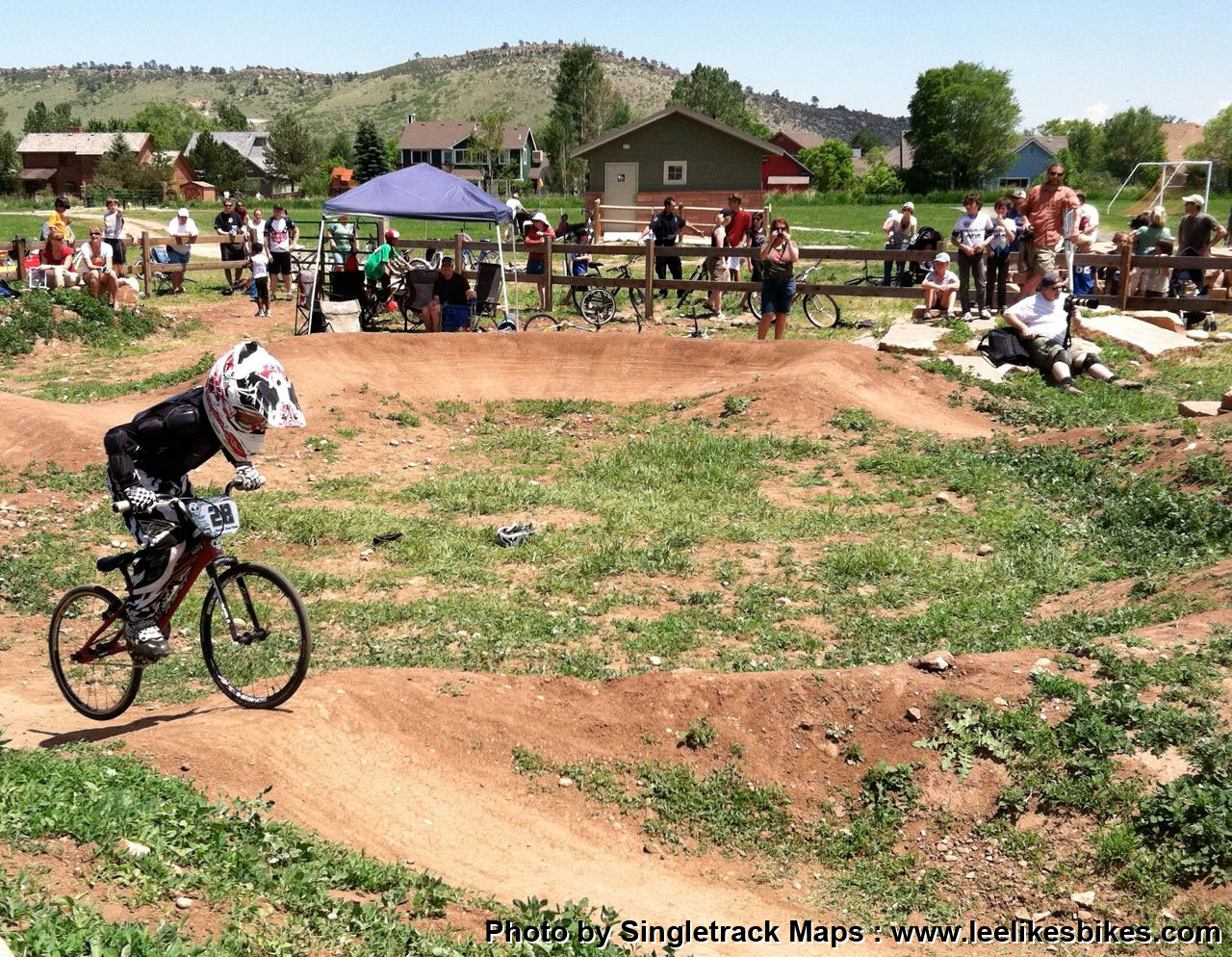 Kid pinning it on a pump track in a bike park in a small town on a BMX race bike in full race kit with people cheering. Too cool.
Why am I in charge?
I volunteered to consult on the pump track event, but personnel changes left me in charge of the whole thing. Gulp. Thank goodness for generous, talented friends.
Thanks to Matt Allen, Chelsea Allen, George Sharman, Robyn Faike and Farid Tabaian who dominated the track maintenance, timing, results and kid wrangling.
Thanks to Jason Emmanuel and Chris Wyatt (Specialized); Farid (Singletrack Maps) and Matt (ZEROGOO) for the prize love. Kids and parents went home with tires, pedals, hats, shirts, posters, trail maps, hydration pack fuel injectors and more. The Town of Lyons and Dave at Redstone Cyclery put up a $500 pro purse. That's a lot of money to ride a pump track in a zero-budget bike park in a little town!
Unfortunate scheduling dot com
After months of delays, the multimilliondollar Valmont Bike Park opened during the Lyons Outdoor Games weekend. Of course. I am super stoked for the multi-million-dollar Valmont to be open, but BUMMER on the timing.
Kids!
The turnout was definitely lower than hoped, but we had tons of kids. So many the classes went like this:
• Strider age 2-3 (that was as big as the pro class)
• Pedal bike 6 and under
• Pedal bike 7-11
• Pedal bike 12+
• Pedal bike Women (OK, woman)
• Pedal bike Pro
Protocol
Run 1: Little-little Strider kids ran one timed lap. Little kids rode two timed laps. Bigger kids and grownups pumped one lap to gain speed then ripped two timed laps. For little kids, that was the final (when you're three feet tall, a pump track is a big place).
Run 2: Big kids and grownups ripped their official race runs, slowest riders first. That was super cool. Interesting, too, to watch very smooth riders stiffen under pressure. Riding pump track and racing pump track are different games.
Pursuit: The top two from each class started at opposite ends of the track and rode until someone got caught. This was a great show (at least when I wasn't racing).
Next time I'm in charge of a pump track race, I want to do one fewer timed run and, instead, run pursuits for everyone. Riders 1 and 2, 3 and 4, 5 and 6, etc. so everyone can make the Big Decision: Do I pin it for the quick pass, or do I settle in and see what happens?
I decided to settle in.
Video!
Here's the pro pursuit. My head was spinning from running the show, but I managed to qualify #1. In the final I settled in and caught Jim Dukes in 7.5 laps. (I better do well; I've ridden thousands of laps on this track.) Jim made $200 for his effort; I donated my share to the bike park.
Thanks to everyone who helped, rode and cheered.
Pump Track Nation!
---
Know more. Have more fun!
Join the leelikesbikes mailing list:
---
https://www.leelikesbikes.com/wp-content/uploads/2018/08/leelikesbikeslogoheader.jpg
0
0
leelikesbikes
https://www.leelikesbikes.com/wp-content/uploads/2018/08/leelikesbikeslogoheader.jpg
leelikesbikes
2011-06-13 20:16:53
2011-06-13 20:16:53
2011 Lyons Outdoor Games pump track worlds