2007 MSC #2: Chili Challenge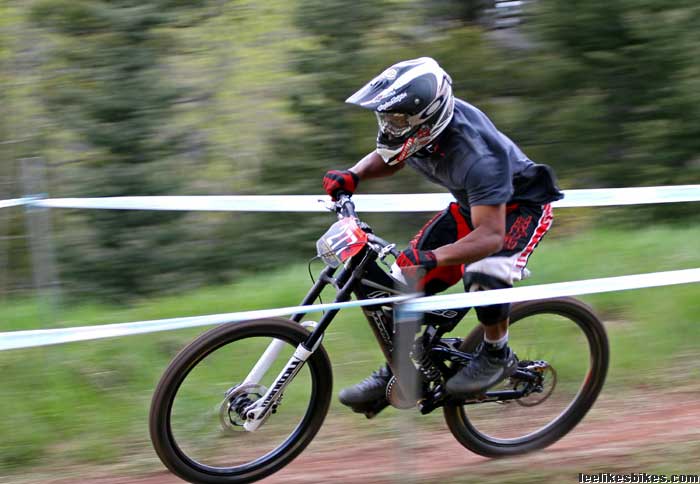 The Mountain States and NORBA National crews converged at Angel Fire, NM for a long Memorial Day weekend. There was all sorts of action — riding, watching, yelling, ducking the rain — but the courses stand out most.

The more you click, the more I can post. Lee Likes Groceries dot com!
---
Thanks to Yosei Ikeda, Brian Bailey, Rip Ripley and everyone else for your photos.
Downhill


Rail the right, sneak in a pedal and flyyyyyy …
The Angel Fire DH is the real deal. This year's course used a combo of sections from the Alpha and World Cup courses.
Pedal, pedal, pedal down the ski run and stick a slight left. Slow down! Latre-apex the right, boost off the rock and dive into the woods. Rat tat tat log jump rat tat tat line up the chute clatter down big rocks pump the left drop onto the ski run. It takes about that long. Off camber rights feed rocky lefts — right left, right left back into the aspens. Avoid the lazy ruts. Line up the turns, jump the rocks. You're bouncing on the world's most malicious trampoline. Keep your feet moving!
Under the bridge, Pump Track Nation across vlcanic outcropping and blast onto another ski run. PINNED through the mud ruts and across the rocks. Rat tat tat! If you're balance is perfect, you get a rest. If not, your hands are pumped, and you enter the next section –a wooden ramp into heinous rocks — without the benefit of fingers. Rat tat tat, braaap braaap braaap. Planing, skimming, pumping, jumping. The line between glory and catastrophy is so fine; just ask the many Jr. Exes who augered into mis-timed boulders.
How do you feel? Fresh? Strong? Good, 'cause you're sprinting down another ski run, hipping a sweet right then diving into a delcious chicane. Hard left, haaaard right, hard left, drop onto a road then plunge into a smooth, brakeless sequence of arboreal love. Look way ahead, pump the turns, let your Demo or V10 or M3 or 303 do its thing. Hit the kicker rock on the left and juuuump 20 feet over the rock field. That or go slow and hit all the rocks; your choice.
Resume ludicrous speed. Fast, fast, faaaaast down the ski run, tasty right into off camber left then PEDAL straight to a monster step-up. Don't fear, 'cause it'll bleed most of your speed. Downshift and brooooppp … pop high-left into the grass, pump the dip then the roller, carve the right, take a pedal and loooooft down the new stepdown road gap. Flying … flying … still flying.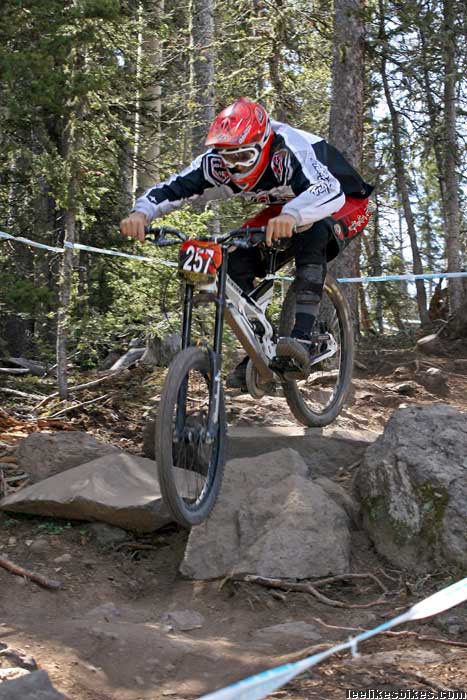 Rat tat tat tat taaaaaattt!
Perfect backside, fading left, a quick tree-turn then another rod gap. BRAAAP to a smooth landing, boost the kicker then tuck brother tuck. Crazy-fast off-camber left says stay low, angle the bike, turn your hips into the hill. Yum! Bop bop off twin logs, Santa Cruz-esque chicane then wide open to the line. Your heart rate is pinned, and your hands feel fine right?
– Crazy rain made practice conditions super-variable. The mornings were wet and sloppy — East Coast style. The afternoons got better, and race day (for pros) was perfectly lovely — tacky yet fast.
– Beginners and sports skipped the toughest sections, but in my opinion this course is too much for new riders.
– Jared Rando won Pro Men 4:45.
– Melissa Buhl rocked Pro Women with a 5:37.
– Lisa Myklak, this year coached by little ol' me, took second. She also took second in mountain cross. She's having a great year, hanging with the fastest women in the country. Pretty sweet!
– Ariel Lindsley, an all-around stud in the mold of Mark Weir, just started DHing a Maverick ML-8, and he dominated Semipro Men. Ariel is a great rider, and I guarantee he puts out more power than anyone else in the class. I probably have him for 40 meters, but after that …
| | | | |
| --- | --- | --- | --- |
| The new drop is oh so yummy. | Tra la la … | Rocky Horror Picture Show. | This, right here, does not suck. |
| | | | |
| --- | --- | --- | --- |
| Damien Anderson rocks. And he comprises 20% of the MSC's black racing population. | Wide freaking open. | The reason we drive to Angel Fire. | Neil is surreal, and he knows the deal. |
Mountain Cross



Click for big style.
Again, this course is the real deal. Left over from the World Cup, all fast and huge style.
The gate drops. Snap! Pump pump pump three huge rollers and drift through the not-quite-banked-enough right. Blip the step-up table to nice backside and braap the table into a bowled left. Right-left chicane, bucky table into tight, steep 180. Pump Track Nation over one, two huge rollers then press into the big double. Whee into a deep left and tight right. Drop into the Pit of Despair, suck up the step-up, then braaap the peaked double into a long, steep downhill left. You are now officially pinned.
If you need to pass, here's the place; dive at the gate and cut those suckers off low-high style — last chance! Tip-toe around the flat right and drop into the last straight. Small gap-drop into long tranny, long table into another perfect trough then big double-table into a tiny tranny. BRAAAP! off the final lip and boost to glory.
– The three jumps on the final straight are BIG, BIGGER and BIGGEST. But every pro, most experts and even some sports were boosting them. This course has definitely stepped up the level of regional riders.
– As cool as the track is, it's basically a parade from the holeshot to the end.
– A trackside tree claimed two riders: a micro-grom who jumped face-first and a pro who got flicked off a double and smashed his back. Both are fine, thank goodness. Next year that tree will wear a pad.
| | | | |
| --- | --- | --- | --- |
| The last straight. | Teddy Likes Big Berms dot com. | The Staats crew came out and rocked the 4X. | So smooth. He looks like he's sitting in a chair. The bike's crooked, but who cares? |
| | | | |
| --- | --- | --- | --- |
| Petr Hanak, Last year's MSC Pro champ, looked fast as always, but he rode tense and got axed. | Madison Bailey, ripper style. | Our own Joey. | Joey style. |
Super D
I've always thought downhill is the ultimate combination of skill, fitness and gumption, but I gotta say: I think Super D is the one. A good course demands skill, fitness and gumption — plus running, passing, tactics and flat-out aggression. Yeah, Super D is the one.
As everyone said, the Angel Fire course put the D in Super D. It consisted mainly of the Beta DH course and the bottom of the XC climb, with basically no climbing, but tons of pedalling. Balls-out ski run, crazy rocks, swoopy singletrack, pinner fire roads; running, stumbling, sprinting, passing, crashing, drifting, ripping, braaaping. Mix for 10+ minutes.
– In Open Men, Mike West and Ariel Lindsley killed everyone by a good 20 seconds on their Maverick ML-8s. The Mighty Ryan Cranston, a great DHer, was in striking range, but he lost his chain and dropped way back. Crazy irony considering he works for MRP. The cobbler's sons go barefoot …
– Surprise: Abby Hippely stomped Open Women and was later seen dominating the Shimano Kids Race.
– Modified start: LeMans starts are exciting, but people get their bikes stepped on, taken by the wrong guy, etc. This time we lined up with our bikes, ran up a hill then jumped on. I say perfect.
– Bike setup: I ran my 2007 Enduro SL Pro with DH wheels, tubeless tires (2.3 Specialized Resolution Pro in back; 2.5 Maxxis Minion DHF in front) and the new Maverick Remote Speedball seatpost. What a freaking weapon for this course. I could attack the rocks with impunity, yet rail through the aspens and braaap out of tight spots. I ran a 36 x 11 tall gear, and that wasn't quite enough. Not sure I had the power to pull more gear, but I could have used it! Oh: I ran a full face helmet, goggles and light pads. This course was very DH.
Five years of living in 10 minutes
Dude, what a race. Over the past few years, coaching has taken over my riding, and I've gotten fat, slow and weak-minded. This off season I lost 10 pounds, trained smart and worked on my running (and I fell in love, which never hurts). This Super D course is a DHer's dream; I showed up ready to rock.
We had 35 guys on the line — a total mix of DHers, XCers and just plain MTBers. I ran my balls off!!! Reached the descent in third, leaped onto the saddle, but it was higher than expected, and I crushed myself. (Good thing my balls has just been run off).
While I sat on the back tire, colorful shapes blurred past me. I got on and hammered that slack little bike straight down the ski run, through grass, over rocks, past elbows, passing, passing, following until the guy explodes, passing, passing. Reached the rocky singletrack in second place and gaining. Perfect, this is mine.
Last night's rain made the rocks slippery. I took an aggressive line through a muddy-rocky right and crashed my brains out. Clatter, scrape, colors, blurs, pain. I got run over every which way. Lycra over and around me. A Yeti 303 — "Go Darner!" Fresh scrapes on my helmet. Dazed, untwist my bars. Saddle twisted, front brake lever bent out of the way. Grrr!!!
Pumping the rocks one-handed, beating my seat straight. Reaching to twist the lever. Good enough. Pin it! Pass bright colors and tense shoulders. Straight through the rocks. Darner ahead on his DH bike. Dang, he's fast … Follow, chase, scheme. Tight trees, big rocks. Battle. Eyes, brain, legs, elbows. Pass more. Catch Darner on a little uphill.
Down to three. Me, an XCer and a DHer. I'm in last, balled up in the trees. The skinny one is holding us up, and I'm talking to the DHer. "OK man, it's time to let me by," … "You really blew that turn, here I come," the whole way through the section. Every time I pull alongside, he grabs a piece of me and pulls me back.
The course opens up and I sprint. He's ahead, looking back, giving it everything. I pedal harder than I have in years. Left elbow in the trees, right elbow on his. It's a war of wills, and I need this more than he does. Sneak ahead, pinch him off to the singletrack and catch the XCer in 0.0001 seconds.
Ripped, shaven legs; brakes; tension; brakes. Crap, this guy is slow. But he's ahead, and there's nowhere to pass. I follow like a sheep. I know better, but what to do?
We reach an open section, and I crank the 36 x 11 to max speed. I'm gasping and wheezing and hurting, and he pulls ahead in his 44 x whatever. Dude: A strong XCer is no one to trifle with; it's like they do a different sport. I glance back; DHer is gone. I maintain speed, pass the previous wave and finish second, already 14 seconds back.
Super stoked. I spent everything, and it felt great to be back in the mix. Lessons:
– Need … more … gear. At least for fast courses.
– My fitness is on the right track. Keep … building. Run … faster. Embrace … pain.
– No more Mr. Nice Guy. Must … pass … early. I apologize in advance. I need this!
Crested Butte is much flatter. That course puts the XC in Super D, and it'll reshuffle the deck.
The Dudes
I'm becoming a pretty decent bike racer, but I gotta say: the guys on The Fix team. Full Tilt, Kozos, RPM and everyone else I've been working with are killing it! From young Matt Branney to high-school grad Matt Ripley to ancient Keith Darner, it's so cool to see people 1) have fun, 2) stay safe and 3) maybe stand on the podium.
| | | | |
| --- | --- | --- | --- |
| Yosei Ikeda, a definite artist-warrior in the making. | Teddy Benge is a pinner! There are No people, and there are Yes people —- Teddy and his brother Roy are big-time Yes people. | Matt Ripley with the classic attack position. | Super Joey Schusler, at ramming speed. |
| | | |
| --- | --- | --- |
| Roy Benge, with goggles on the helmet and gloves tucked in the back of his shorts. It all starts with style, eh? | Ripley. | Brendan Smith, a new recruit in our Army, is rocking. |
Selected downhill results from riders I've worked with (to varying degrees) in the past year.
Scott Branney, 1st, Beginner 40+ (6 minutes faster than last year!)
Michael Patterson, 1st, Expert 40-49
Lisa Myklak, 2nd, Pro
Chris Shewmake, 3rd, Jr. Ex
Joey Schusler, 4th, Jr. Ex
Madison Bailey, 5th, Jr. Beginner 13-14
Michael Lees, 5th, Beginner 40+
Scott Mack, 9th, Semipro
Dylan Patterson, 10th, Jr. Sport
Neil Grigsby, 11th, Expert 19-24
Keith Darner, 14th, Expert 30-39
Jacob Branney, 14th, Jr. Beginner 13-14
Yosei Ikeda, 15th, Jr. Sport
Tim Dufficy, 16th, Jr. Sport
Brendan Smith, 17th, Jr. Beginner 15-16
Brian Bailey, 18th, Expert 40-49
Dustin Belcher, 20th, Jr. Ex
Kendall Williams, 21st, Sport 19-24
Ben Gager, 22nd, Jr. Ex
Teddy Benge, 22nd, Jr. Sport
Addison Williams, 24th, Jr. Sport
Sam Fan, 26th, Sport 30-39
Dave Badger, 32nd, Semipro
Broc Patterson, 35th, Jr. Ex
Matt Ripley, 38th, Jr. Sport
Evan Powell, 39th, Jr. Ex
Zach Griffith, 41st, Pro
Zach Saipe, 44th, Jr. Sport
Selected mountain cross results from riders I've worked with (to varying degrees) in the past year.
Scott Mack, 1st, Expert 30+
Lisa Myklak, 2nd, Pro
Neil Grigsby, 2nd, Expert 19-29
Michael Patterson, 2nd, Expert 30+
Teddy Benge, 2nd, Jr. Sport
Matt Branney, 2nd, Jr. Beginner 12 and under
Madison Bailey, 2nd, Jr. Beginner 13-14
Vincent Powell, 3rd, Expert 19-29
Roy Benge, 3rd, Jr. Beginner 12 and under
Dave Badger, 4th, Expert 19-29
Joey Schusler, 4th, Jr. Ex
Todd Wilson, 5th, Sport 19-20
Jacob Branney, 6th, Jr. Beginner 13-14
Scott Branney, 6th, Beginner 19+
Michael Monsauret, 6th, Sport 30+
Dylan Patterson, 6th, Jr. Sport
Dustin Belcher, 7th, Jr. Ex
Clay Watson, 7th, Expert 30+
Kendall Williams, 7th, Sport 19-29
Brendan Smith, 7th, Jr. Beginner 12 and under
Jerry Harcek, 8th, Expert 30+
Matt Ripley, 11th, Jr. Sport
Addison Williams, 13th, Jr. Sport
Evan Powell, 14th, Jr. Ex
Brian Bailey, 15th, Expert 30+
Broc Patterson, 16th, Jr. Ex
Chris Shewmake, 18th, Jr. Ex
Zach Saipe, 18th, Jr. Sport
Whew, that's a lot of riders. Keep ripping you guys! See you at Crested Butte.
https://www.leelikesbikes.com/wp-content/uploads/2018/08/leelikesbikeslogoheader.jpg
0
0
leelikesbikes
https://www.leelikesbikes.com/wp-content/uploads/2018/08/leelikesbikeslogoheader.jpg
leelikesbikes
2007-06-02 15:27:14
2007-06-02 15:45:31
2007 MSC #2: Chili Challenge