Lyons Bike Park: Built and ridable!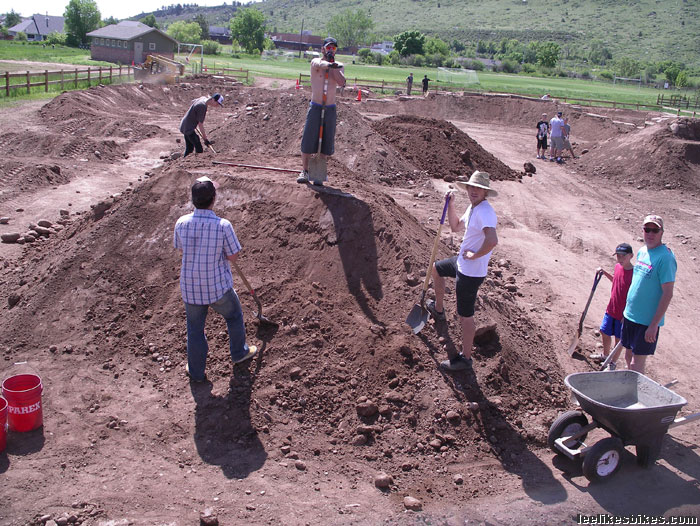 A week ago, this field was knee-high grass. Now we have two beautiful trick jumps, a natural terrain loop, a pump track, a set of rollers and a set of tabletops. Thanks to a great team.
Project start: Parks director Dave Cosgrove, Glenn from Bitterbrush Cycles and I met in November. Design began at the end of March.
Big goal: Have the Lyons Bike Park fully built and ridable by the Lyons Outdoor Games, June 13-14. That's about 10 weeks from initial design to major event.
Medium goal: Place the major elements by May 31, yesterday, so we can use manpower to shape and ride them. Many said it wasn't possible. Thanks to the powers of positive thinking, long hours and incredible community support, we got that done.
Thursday, May 28
Brandon Turman came out to finish shaping the trick jumps, which came out absolutely perfectly. Left Hand Excavating built the Pyramid.
| | | | |
| --- | --- | --- | --- |
| Building the Pyramid. Green line is up the middle. Blue line is on the left. Black line is on the right. Jake guides Scooter's backhoe. Glenn rocks some detail work. | Jake shows us how to chisel easier lines into the rock slabs. Glenn and I tried to take over — and it was like the Two Stooges busting rocks in jail. Useless and funny. | Brandon shapes the mammoth roll-in. | Overview as of Thursday afternoon. |
| | |
| --- | --- |
| Brandon takes an easy run over Trick Jump #1. He'll be throwing down at the Lyons Outdoor Games. | Mr. Turman goofs his way down the Pyramid. You can see Scooter watching from the backhoe. |
Friday, May 29
Left Hand Excavating and I had a skid steerer, loader and backhoe going simultaneously. We only had this equipment until 4:30, and we were fully pinned!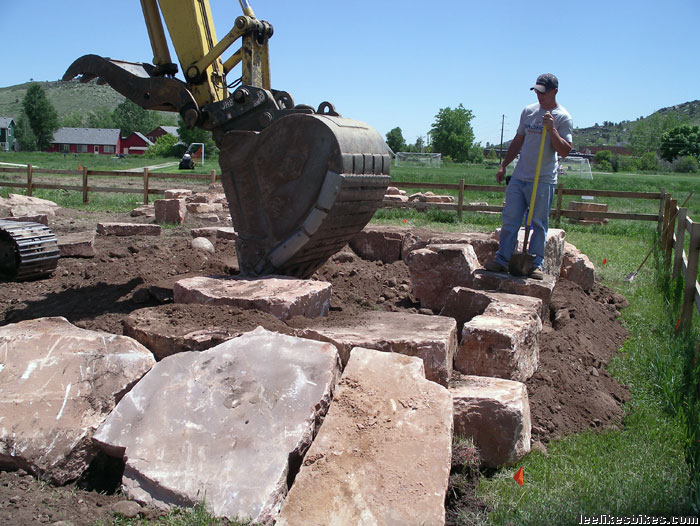 Jake and Scooter build a massive rock table at the far end of the natural terrain loop. When you exit the berm — bam! — you encounter these rock slabs.


After I marked out the tables and roller, Gabe placed the dirt very quickly. One dump per roller.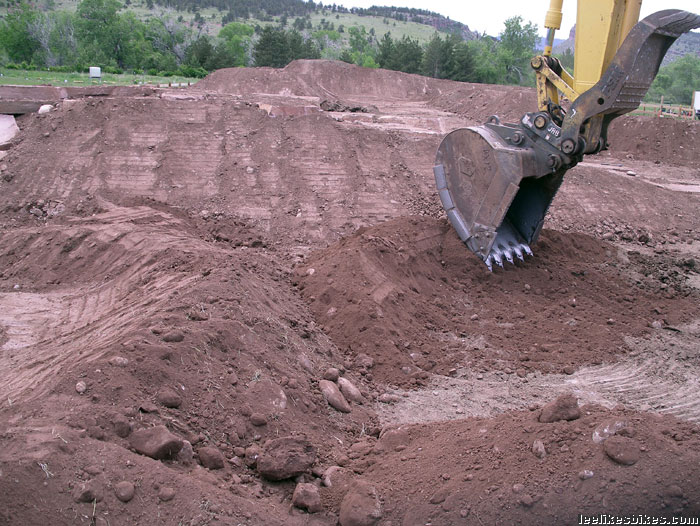 Scooter and I placed the entire pump track in just two hours. Working with Scooter and his backhoe is like having your own Giant Earthmoving Robot. Just awesome.
At the end of the day: Rollers and pump track were placed and ready to shape. We can up short on dirt for the tables.
Saturday, May 31 — Dig/ride day
We had a great turnout, including three IMBA trail-building honches and Hatrock Excavation, who brought in dirt and helped us move it around. Thanks everyone!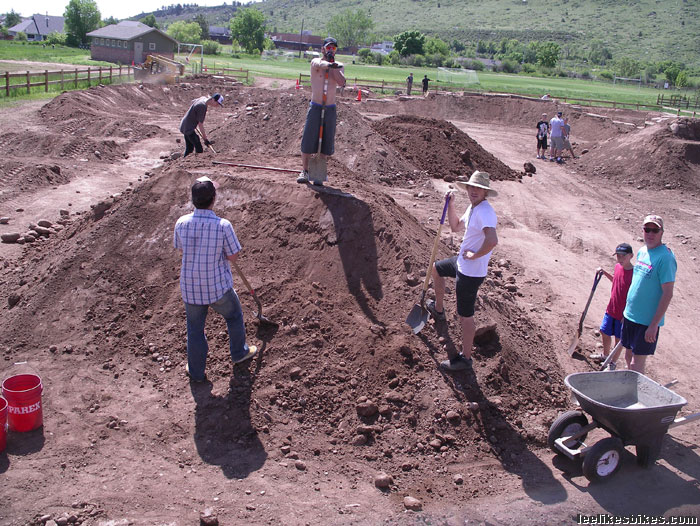 While Steve from Hatrock brought in more dirt, Nick Simcik and his crew got the first two tabletops shaped. In the foreground: Spomer Himself from www.littermag.com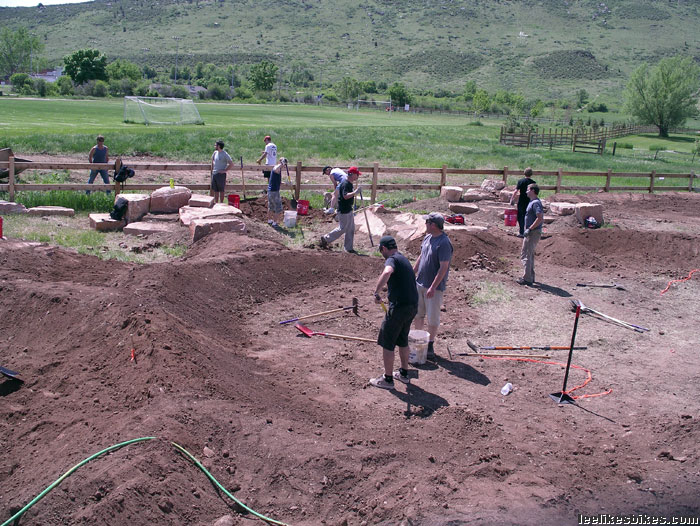 While Glenn works the 180 in the foreground, Jason and Duncan — both IMBA trail crew leaders — integrate the pump track into the rock features. A major goal of this project is to unify different riding styles; our work crew had the perfect mix of experience.
| | | | |
| --- | --- | --- | --- |
| Eric from IMBA, in the red hat, bought out tons of tools, including McLeods and buckets — both indispensible. Volunteers help us blend the pump track with the Pyramid. | Shaping the pump track berms by hand. | An interior 180 takes shape. | Kids were on cobble duty. Gather it up and put it in the bucket. |
We worked on the pump track from about 9 a.m. to 1 p.m. We soaked it during lunch, then we started riding in the lines. With a huge backhoe and an army of volunteers, we went from flat ground to Pump Track Nation in less than six hours!
Sunday afternoon
I slept until noon and ate an enormous breakfast. Glenn from Bitterbruch Cycles just called; people are rocking the pump track, and a crew is shaping the third table.
Next: Now that the table trick jumps and tabletops are placed, I'll design a slalom to flow between them. We should get some more dirt this week. Place it, shape it, ride it!
Thanks again to everyone on the team, from helicopter-flying excavators to the cobble-gathering kids.
— Lee
---
Know more. Have more fun!
Join the leelikesbikes mailing list:
---
https://www.leelikesbikes.com/wp-content/uploads/2018/08/leelikesbikeslogoheader.jpg
0
0
leelikesbikes
https://www.leelikesbikes.com/wp-content/uploads/2018/08/leelikesbikeslogoheader.jpg
leelikesbikes
2009-05-31 15:33:25
2009-06-02 18:15:28
Lyons Bike Park: Built and ridable!