Lee Likes Clinics:
Skills, Confidence, Fun

Mountain biking is the best sport ever — and the better you get, the better it gets.
Ride safer. Ride more confidently. Ride faster. Have more fun.
---
Use these links to jump down the page:
>>> The LLB Teaching Method
>>> LLB Coaches
>>> Private and semi-private coaching packages
>>> Clinics outside Boulder, CO
>>> Bring us to your town
>>> Public clinics at Valmont Bike Park
>>> Policies
>>> Testimonials
---
Lee McCormack has been a devoted rider and communicator for more than 25 years. An award-winning writer and artist, as well as a decent racer, Lee has dedicated his professional skills and personal passion to helping cyclists improve their lives by improving their riding.
The LLB Teaching Method:
Is simple. Rather than spend time teaching you nifty little tricks (ie hopping your rear wheel), we focus on a handful of essential dynamics. These core skills will help ride with more confidence and speed in any situation.
Is systematic. Imagine a "skills tree" that contains every conceivable riding skill. We start with the trunk of the tree and work our way up the branches. Rolling down a ledge is low in the tree; jumping into a berm is high in the tree. Whatever you want to do on your bike, we'll get you there: one safe step at a time.
Is scalable. Once you learn the core movement patterns, higher level riding is simply a matter of combining simple movements. Experts ride exactly the same way as beginners—with more power and speed.
Is proven. Lee has personally taught thousands of riders of all levels and styles, including 1,000 high school coaches and riders. Lee's skills and training books have reached more than 100,000 riders worldwide. Top XC, DH, Enduro, BMX and XTERRA racers are faster thanks to Lee.
Is time efficient. You don't need days to learn MTB kung fu. We'll teach you what you need to learn in hours. As some clients have said, "Lee taught me more in three hours than COACH X taught me in three days." Spend focused learning time with us, then go out and ride (or spend time with your kids)!
Is constantly being improved. On the bike, fun happens at the intersection of challenge and skill. We are always seeking that sweet spot in our riding, and we are continually working to become better teachers.
Is for you. Whether you're a first timer, seasoned expert or a professional racer, we'll help you ride with more confidence and speed.
Ride better. Live better!
Fun ride with 7X XTERRA world champion (and LLB kung fu pupil) Conrad "The Caveman" Stoltz:

---
LLB coaches are picked and trained for these qualities:
Impeccable riding style. We are teaching every moment we are on a bike, and our kung fu is good (and constantly getting better).
Deep understanding of riding dynamics—and the ability to teach them using the LLB Teaching Method.
The ability to communicate with any rider—beginner or pro, scared or stoked.
Meet our coaches, and schedule sessions with them:
Lee McCormack – Boulder, CO
Andy Somerville – Orange County, CA
Kevin Stiffler – Boulder, CO
Judd Zimmerman – Salt Lake City, UT
This list is short because we have very high standards. Do you want to become an LLB coach? Email lee@leelikesbikes.com.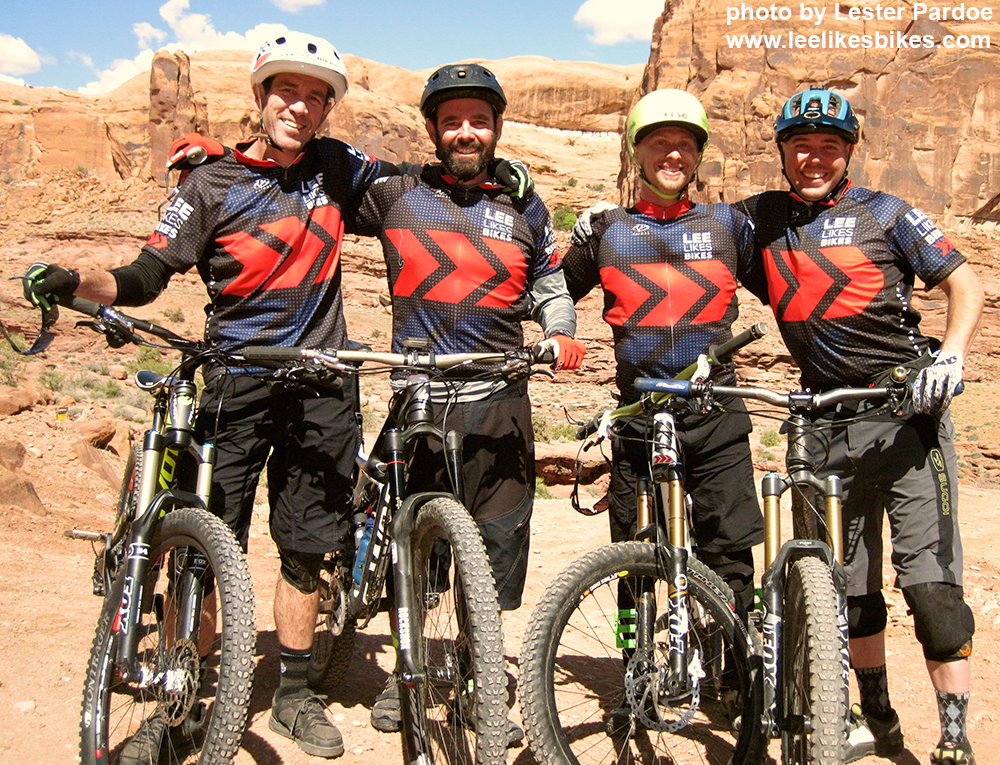 Andy, Lee, Kevin and Judd at the 2014 LLB coach summit in Moab, UT. What a fun day!
---
Private and semi-private coaching packages
The fees below cover one to six riders per session. Additional riders at additional cost.
To grab a clinic, use one of the Paypal links below. You can pay with Paypal balance, credit card or bank account. You do not need a Paypal account.

To arrange your date(s) and time(s), email Lee at lee@leelikesbikes.com.
We offer private and small-group instruction in various packages to suit your needs. These options are for working with Lee McCormack. To work with other LLB coaches, check out LLB Coaches.
Gift certificates are available!
One one-hour session
$175
This fee covers one to six riders per session. Additional riders at additional cost.
Start building your foundation or focus on a particular skill.


Buy one one-hour session at PayPal
One two-hour session
$344
This fee covers one to six riders per session. Additional riders at additional cost.
Start building your foundation or focus on a particular skill.


Buy one two-hour session at PayPal
One three-hour session
$500
This fee covers one to six riders per session. Additional riders at additional cost.
Build your foundation with the core skills, or explore specialized skills.


Buy one three-hour session at PayPal
Two two-hour sessions or one four-hour session
$640
This fee covers one to six riders per session. Additional riders at additional cost.
Two two-hour sessions are ideal if you have limited time, attention span and/or fitness. One four-hour session is great for riders from out of town or who want to get into deeper kung fu.


Buy one three-hour session at PayPal
Two three-hour sessions
$900 – Most popular
This fee covers one to six riders per session. Additional riders at additional cost.
Core skills plus on-trail application or get into advanced skills. We can do one six-hour session if needed (especially if you're traveling to see me).


Buy two three-hour sessions at PayPal
Block of 10 hours
$1,250
Core and advanced skills, plus on-trail application.


Buy a block of 10 hours at PayPal
Block of 15 hours
$1,687
This fee covers one to six riders per session. Additional riders at additional cost.
Core and advanced skills, plus on-trail application. Great for a weeklong riding vacation in Colorado!


Buy a block of 15 hours at PayPal
Block of 20 hours
$2,000
This fee covers one to six riders per session. Additional riders at additional cost.
Core and more advanced skills, plus lots of on-trail application. Victory.


Buy a block of 20 hours at PayPal
One-day clinic on the road
$1,800
Do you want Lee to teach you on your trails?
Six hours of coaching/riding with a lunch break in between. Share among as many riders as you like (six is the sweet spot).


Buy a one-day clinic at PayPal
Email me at lee@leelikesbikes.com to set up your session(s) or if you want to pay with credit card over the phone.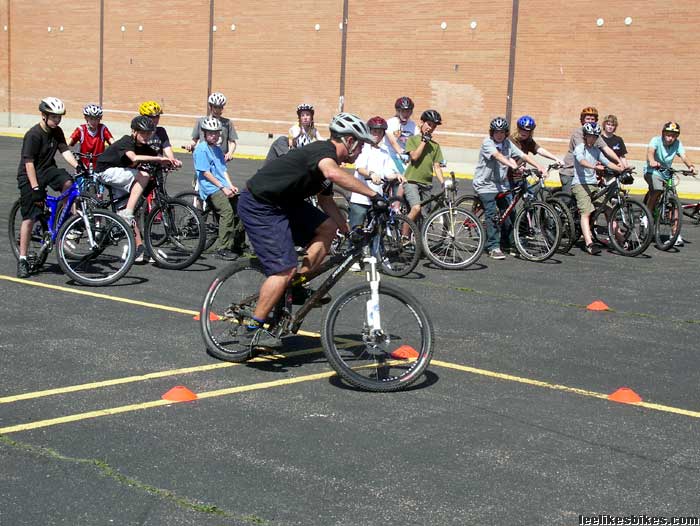 Special session at Platte Middle School in Boulder, CO. These kids are on their way to Moab, and Lee's showing 'em how to rock a tight switchback. Don't look at the cactus!
---
>>> Kung fu skills in Peoria, IL Aug. 15-18
>>> Skills clinics at Winter Park, CO Dates in August and September, 2014
>>> Skills clinic in Orange County, CA on Sept. 7
Stay tuned for more clinics!
---
Bring us to your town

LLB coaches love traveling around to spread the Kung Fu. We'll meet at your favorite spot, learn skills and drills, eat lunch then apply the skills to the local terrain. It's always a big, tiring and fun day. This will change your riding life. Seriously.
Perfect for families, friends, clubs and teams!
Tell us where you are and what you want: lee@leelikesbikes.com
---
Public clinics at Valmont Bike Park

Valmont Bike Park in Boulder, CO is an incredible place. Lee Likes Bikes is a Valmont Bike Park Official Adventure Provider specializing in adult skills clinics. 20 percent of your clinic fee goes straight to the park.
We are offering lots of clinics—weekday evenings and weekend mornings—in 2014.
Check out the class schedule and get signed up: Public clinics at Valmont Bike Park
NEW: Level 2 clinics at Valmont Bike Park

A fun group at 2014's first public clinic at Valmont Bike Park.
---
Time: The clock starts at the appointed time. Be ready to ride.
Equipment: Your bike should be well adjusted and in good working order. If I believe your bike is not safe, we will spend clinic time making it safe. If I need to adjust anything —brakes, gears, suspension — I will use clinic time. BTW: Most riders' bikes are way off, and a few quick adjustments can make a wonderful improvement.
Lee Likes Bikes partners with The Fix Bike Shop to make sure you and your bike are dialed in. The Fix is on the north side of Valmont Rd., right next to the Valmont Bike Park.
Changes and cancellations: If you want to change your appointment, you must notify me by phone or email within 48 hours. After that time, there will be no change or refund.
Weather: Bad weather does not cancel sessions unless the venue is closed. If the conditions permit any kind of riding, we will ride. If it's raining, bring a jacket. If it's muddy, we'll find another surface to ride on. If the lift closes because of lightning, we will push our bikes or practice in the parking lot. if we do cancel because of weather, it will be at my discretion, and I will notify you as early as possible.
Liability: Bike riding has inherent risks, and you must accept those risks. You will sign a waiver before we ride.
If you are a mountain bike skills coach or instructor, and you work on your own or with another party, please do not sign up for an LLB clinic. See below:
Use of information: The Lee Likes Bikes Training Method is the mountain biking instructional method developed by Lee Likes Bikes (LLB) for sole use by Lee Likes Bikes and authorized individuals. It is the intellectual property of LLB. The LLB Training Method information conveyed to the participant shall be used only for the participant's personal use. It is not to be used outside LLB-authorized activities for which LLB and the participant have a business relationship, nor is it to be shared with others — including riders, trainers or instructors — outside LLB authorized activities. Any appearance or representations made by the participant of this information in any form shall be credited to LLB. LLB does not train other bike coaches unless they are working in LLB-authorized activities. If you are interested in becoming an LLB-certified instructor, please contact Lee McCormack at lee@leelikesbikes.com.

Lee Likes Bikes partners with The Fix Bike Shop to make sure you and your bike are dialed in. The Fix is on the north side of Valmont Rd., right next to the Valmont Bike Park.
---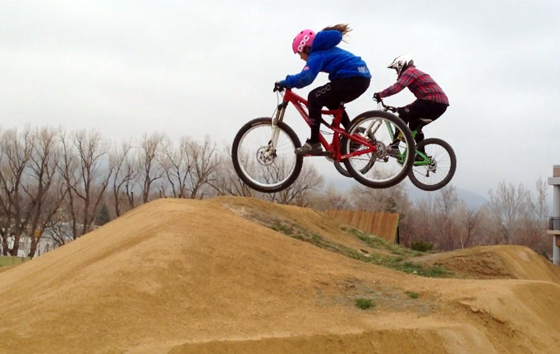 "Thanks for a wonderful time, we are so happy with all the super training we got with you. No doubt you have made us better and safer riders, i am very impressed by your deep knowledge and still explaining every exercise so easy and understandable (even for a kid). The time with you have given Mille the best foundation for her DH season and further development as DH rider.

"We had to go back to the bike park before we left see attached."

Håvard, who travelled with his daughter from Norway to Boulder for a week of kung fu training
—-
Lee,
I've been practicing braking and drops as well as riding position. I got a shorter stem for my 4X bike as you suggested, and wow what a
difference. I went to the BMX track yesterday and it felt like a completely new bike The new riding positions that you tought me made it so much easier to jump as well as get a good pump off of the rollers. I've applied what you tought me about drops and body position to my DH bike and I was able to finally hit the 7 foot drop smother than I've ever hit it before.
– Matt (junior beginner downhill and 4X racer)
—
Lee,
Thank you! I just got back from Moab, where I rode Slickrock and
Porcupine Rim trails. And I had a blast, mostly because I took your
MTB skills class. Those are two extreme trails, yet I found myself
comfortably handling terrain that would have freaked me out before the
training. So cool!
Thanks to your training, I felt the bike moving more freely underneath
me, while my body stayed calm. Using your techniques, I got down most
of Porcupine while really enjoying the trail's rocky extremes. While I
still walked over some of the bigger drops, I was amazed at how much I
could do.
Mountain biking is so much more fun because I took your training.
Everybody should be so lucky to get this kind of instruction.
Steve
(40-something mountain biker)
—
Lee-
Got the handouts! Thanks! They are rad! Breaking it down like that really
helps.
Thanks again for all your help and extra time! I'll keep practicing!
You're the best!
-Judy (pro XC racer)
—
Lee,
Thanks so much for an awesome class and for spending extra time with us on Saturday. For me, getting more comfortable moving around over the bike, not freezing up when I am nervous, getting low in the attach position and looking ahead are key. I definitely need work on unweighting the front tire in particular, this will help me on trails, and I think the basics you taught us will help me do that. Once I get more comfortable with that I will relax a lot more and stay loose when the trail gets technical and steep. We had a great ride on Sunday at Keystone and a lot of the things you taught us popped up in my mind while riding. I was able to carry the front wheel when going over some of the small drops there, although larger drops or drops close to other obstacles – rocks, turns etc. – freaked me out still and I either rolled them or stopped and walked them.
You made the class great fun, you've got a great attitude, very positive and supportive. Great material, the book is very helpful as a companion for the class. Focusing on the basics is key for me, so I thought it was great that we worked on that rather than going straight to more advanced skills.
Thanks again, look forward to riding with you in the future.
Derrick Nedzel
System Consultant
iAnywhere Solutions
—
Excellent training. I learnt so many things and feel my riding has improved many times over. The pace and the way things were taught (verbally and demonstrated) were excellent. Lee always managed to make things fun while holding everyones attention.
Paul, intermediate mountain biker
—
Preparing for my first year of downhill racing, I knew I wanted to race expert. I was not afraid of pinning it. I could hit tech sections with speed and felt relatively comfortable just riding trail. Yet I knew I needed something to help progress my riding as I was getting whupped by more peers on trail. I could not figure it out. I read magazines and watched movies to learn how to hit corners without slowing down. I just could not grasp the concepts of lean and body position.
I started talking to Lee about my goals and we started doing some clinics. Lee told me that I had some natural talent that was good enough to start racing expert, but the fundamentals were my greatest weakness. Lee and I decided that my greatest problem was cornering. We started riding on a flat hardpacked, yet sandy piece of land by our local dirt jumps. He set up a flat turn slalom course and we did laps. Lee was able to correlate riding a bike to something that is easy for me to understand and my progression took off like a rocket. Before long, I felt confident railing berms, hooking flat turns without braking, drifting off-camber turns, riding brakeless, and all of the other cornering tricks he had up his sleeve.
I read his cornering chapter (in Mastering Mountain Bike Skills) every night for weeks until I had it memorized. I would read it in the car on shuttles and work on a new trick and on my last few runs I would put them all together and see how it went. I ran a timer during these runs and my times reflected what I thought they would; I was getting faster.
My race season went great. I put together some great runs and was blown away when I beat Lee in one race. I am going to continue to take advantage of Lee and his nearly endless knowledge of cornering, sprinting, jumping, and hopefully his chapter on racing like a champ will help me to improve my weakest part of my riding, the mental.
Nick Simcik
19-24 Expert
Boulder, Colorado
—
I haven't ridden in a couple years and frankly had some fear. Lee breaks everything down so it's easy to get, and I really like his "no fear, no pain" philosophy." He's really gentle, and he gets you doing things you've never done before — and you're having fun doing it.
Tracy
—
Lee,
Thanks for the lesson … You're a kind and patient teacher.
I'm psyched for lesson 2!
Mark
(experienced runner and climber but pretty new to mountain biking)
—
I recently participated in a 2-part downhill clinic [for road bikes] conducted by Lee McCormack. I signed up eager to learn but was blown away by how much I learned. Lee's class quickly changed my comfort and performance on the bike. Lee's unique ability too clearly teach, building upon skills, to bring the rider to a higher level is amazing. Before you know it, you are riding better, safer, and having more fun. I wish I had learned from Lee from the start. I am very interested in attending more classes.
Karen Rakestraw
(experienced road rider)
—
I just wanted to let you know how Awesome the Adult MTB Clinic was!!
I have been riding MTB's longer than most SMBA kids have been alive (Coaches for that matter) and considered myself a fairly accomplished rider. Lee's Clinic taught me so much more and as I apply it to my riding, I am continuing to getting better and faster!
Getting back to basics is a great way to go. I know I have developed habits, become comfortable in my riding style, and never really think to try something different. Lee's style of teaching and method of delivery, along with Hands-on practice is an awesome way to raise the bar on riding.
For anyone who thinks they are good and don't need a "basic" MTB class, think again! Balance, Braking, Movement on the Bike – all explained to a new level and it works!! I recommend it for everyone from Beginner to Seasoned Expert – and next on my list is to buy the book! This clinic has motivated me to continue to work on my riding, as I can see I have just scratched the surface.
Denise Lupear
—
Hey Lee,
Just wanted to give you the big thumbs on from my ride this morning!
Michelle and I met for a quick loop at Matthew Winters and had a blast! Given all the rain yesterday the trail was nice and tacky and we had fun working through some sections under your "skills to be mastered" mindset. I cleared so many things, up and down, and was VERY psyched to do so. Unfortunately I had to get back to the kids (a tea party to dress for and get to) otherwise we would have spent a lot more time of certain areas.
There's your warm fuzzy for the day! Thanks for all your guidance and words of wisdom. Now all I have to do is ride and practice!
Have a great one!
Margo
—
Thanks for coming down (to Taos, NM) and helping out (with building a pump track and teaching a clinic).
I could feel a BIG difference on the trail.
I am the ski school manager at Taos Ski Valley. If you ever want to come back to recreate down here let me know and I will hook you up!
Peace, Mugzy
—
Hello, Lee
Thanks for the session (public clinic at Valmont Bike Park). I think that just the parking lot session was already worth my cash. You were true to your promise of making me leave Happy!
I'll still have to focus on those 'Die Hard' habits, but at least now I have the tools and the knowledge to do so.
Honestly I was smiling mentally all the time, but also analyzing everything my brain, body and bike were doing. I am a Telemark and Snowboard instructor and it was interesting to see the parallels on the weighing of the bike in bumbs, valleys and corners.
Will you do an Advanced/Follow up class for this session or for people who like me went through the basics with you?
Tabee, Paul
That park is wicked!!
—
Hey Lee! Loving the class from last night (public clinic at Valmont Bike Park). You're really amazing at taking your passion and intellect and transferring a feeling of possibility to your 'students'. Looking forward to more!
Kristin
—
Hey Lee,
I just got back from a weekend in Fruita. I tried to use all the tricks and tips you gave us at the skills clinic. I had been to Valmont a couple of times after our clinic. Working the pump track, etc.
Let me tell you, all of that came in so handy in Fruita. I had been there a couple times before, but this time, I really rode it hard. We did 22 miles of singletrack both at Bookcliffs and Loma. My quads and ass are still hurting from being in attack position all day. I completely ate up Kessel run and Rustlers Loop. Pumping like a mad man. Attacking the corners with a bike lean. Always in attack position. Popping, dropping, and ripping it all day. It was a complete blast.
Thanks much. I look forward to continuing working on my skills.
Thanks
Stephen
---
—
Lee-
Hey, I'm finally following up after our good sessions up in CO almost a month ago. I took longer than I anticipated to convert the things I learned at the bike park to trail riding abilities (old dogs and new tricks, perhaps).
Anyhow, I have about 8 rides under my belt now. The first couple of rides I was all kinds of out of shape. I chalked it up to over thinking things, it being 90 degrees w/ 50% humidity here at 5 AM, and a week of travel for work that included too much beer and food… After those first couple of rides, things started coming together. Initially, the "new technique" started clicking for riding up rocky steps. I was keeping the weight balanced and just smoothly popping up things, instead of trying to shift the weight back and forward like I normally do. That was starting to work pretty well, with no more front hand spring attempts like I had at Valmont!
After feeling good on the ups, I finally started to want to get into position 1 during normal riding and keep low. I was seeing the benefits of staying low and finding it easier to attack the trail and pump down downhill obstacles while in this position. It became very noticeable when I was sitting up, and ran out of arm when I was going over an obstacle I needed to extend over. What I used to tolerate became a pretty uncomfortable feeling! Even better, I was able to recognize and analyze what I was doing wrong, and know with certainty that I knew what to do to correct it. Making that happen is always another thing, but at least I was sure I was attempting the right fixes!
Fast forward to present day, and my normal trails are feeling more flowly. I also find myself getting low and staying balanced automatically more often, and having to force it to occur less. I think my brain is finally starting to realize that this is a better and safer way to attack the trail…. Hopefully more rides will continue to show benefits.
Heading up to Whistler next week for 4 days in the bike park, so I'm excited to attack things up there as well!
Thanks again, hope all is well in CO.
Ethan
—
Hi Lee,
Just a quick note to say thanks for a great day of mtb training on Sunday. It was an invaluable experience and one that I wish I had the benefit of many years ago.
My sister (Andrea) was riding noticeably better by end of day and hasn't stopped talking about how much she learned since.
My brother (Nick) was so sore he couldn't move on Monday which I thought was pretty telling of how hard he worked.
Thanks again and I will keep an eye out on your site for East Coast sessions next year. Also will start spreading the word in Upstate NY and let you know if we have folks that would be interested in your training.
Have a wonderful holiday season Lee and thank you again!!
Trish
—
Lee! Man that was a life changing day yesterday. I'll be writing everything down as I keep thinking about all that we touched on and can't wait to get back out to start making it second nature – and I'll change out my Yeti's stem.
We'll definitely be crossing paths again somewhere down the line.
Be well and thanks again.
Best,
Jerry
—
Lee,
I can't tell you how much fun I had and how much I learned at Sunday's session. I mean that, I've tried to write this several times, but I actually can't express how much fun I had and I much I learned.
You had really simple, easy to get, explanations and descriptions. I loved the enthusiasm you brought and the people that came to the camp were great (are all mountain bikers awesome?)
I've been riding mountain bikes for nearly 20 years, I've been to a few other camps over the last decade or so and I learned tons in a one short day from you. On the trail ride, I rode the areas we sessioned with new skill and confidence. … I just had the first hint of success on pumping flat turns (and I've definitely tried before) … Riding off "drops" that are quite a bit larger than I would have … The idea of staying in a balanced position, and not doing so much with shifting my weight is new. Lots and lots of things to work on.
I was crazy happy all evening and I woke up crazy happy the next day. It was a fantastic way to spend the day!
My only disappointment is that it ended too soon. After the camp I felt happy and sore! The experience was one of my favorites that didn't have my family in it.
I hope to see you again!
-Jim
—
"I've been a coach, instructor, and lecturer for some 20+ years now, and have worked alongside some of the best. I can definitively say I know what great coaching and teaching looks like. I've also been riding and racing a bike since I was 7. After 38 years of practice, I thought I had it all figured out. Lee's personality, teaching style, and step by step technical breakdown of the finer details of mountain biking elevated my riding skill in just a few short hours. No matter just how good you think you are, Lee's instruction will take you to another level."
James Herrera, USA Cycling National Team BMX Coach

James Herrera and pro racer Kelli Emmett had fun learning skills at Valmont Bike Park.
—
Hey Lee,
Just wanted to say "thanks!" We had a great time and learned a lot. Nothing says it quite like results, and I am a bit of a strava-junkie. So yesterday I headed out to two of the more competitive segments in Marin, Split Rock and Solstice. I moved up 2 or 3 spots on all the segments! Sweet! Kung Fu Rules!
http://app.strava.com/activities/100699586
Drop me a line next time you're in Marin. I'd love to take you on a ride.
Happy Holidays!
Dean
—
Hi Lee,
I took your mtb class 6 months ago in Boulder and have been trying to put those skills into practice since then. The parts of the class that I found most useful in xc riding were the drills pertaining to cornering. I just got home from Tucson where the trails demand a lot of turns – in sand and with dire consequences if you miss a corner. I think a lot about what you taught us and believe I'm finally understanding the feel of cornering properly. (Of course this is all subject to my skill level and my interpretation.)
Anyway, I want to thank you again for the knowledge you imparted to me at your skills class. I am having more fun as a result and I tell my friends on the Western Slope about you. Hopefully it will drum up some business for you and help my buddies ride better.
Best regards,
Tom
—
"I would like to thank Lee McCormack for taking me from a Cat 3 rider to the 2012 Junior National Downhill Champion within a few years. Your help and support mean a lot and I benefited greatly from it. I owe you a lot for where I'm at in my career being on a factory ride and pursuing my dream to become a full time world cup circuit racer."
Alex Willie, 2012 Junior National Downhill Champion, A student, gentleman
—
I just took the 'Leelikesbikes' four-hour Enduro Class at Valmont Bike Park in Boulder over the weekend and within the first hour felt that my money was well spent.
My confidence has increased and, more importantly, I believe I'm a safer mountain biker now then I was before his course. I have been mountain biking for about four years and so many times found myself lying on the ground wondering what just happen and questioning how I could have fallen on a turn. I have often been in the middle of a turn and felt off balance or as I call it, out-of-whack.
I needed the most help with "proper body position on the bike" and teaching this skill is where Lee really shined. Lee's process works; he started us off with proper body position on the bike while we did turns in a parking lot. He explained proper body position, he demonstrated it, told us why it works, and then watched us and gave us personal feedback that was invaluable. Looking back, what he taught me was how to be safe on the bike and how to properly turn and stop. We also practiced panic stops. He got to the fundamentals on how the body works, how the bike works, and the physics of putting both of them together. It was unbelievable what I was able to learn in a short amount of time.
Then there was the fun part practicing on the pump track and slalom course. At first when going over the bumps and the tight turns, I was out of whack, felt off balance, and a little uncomfortable. Lee was watching me and he knew I was having difficulty going over the humps. He walked with me on the track without the bike and told me where at this part of the bump my head should be, how my legs should be bent, and how my arms should be straight with a light grip on the handle bar. He explained how I should be positioned going up to the bump, at the top of the bump and going over it. It was perfect, it just clicked; the light bulb came on. I got on the bike and did exactly what he told me, you should have seen the smile on my face. It just felt right. It felt comfortable and I was not intimidated at all.
Looking back, I felt safer and have more confidence in my abilities. I was ripping down the slalom track and it was fantastic. One individual coming down the track after I just finished said that I was smiling too much. I told him there is no way I would have been able to do this without Lee's clinic. He showed me exactly what I was doing wrong and dial me in. I have read many books and understand what I should do but I'm also smart enough to know reading about it and doing it are two distinct concepts. Lee showed me what to do, and he allowed me to experience how it feels to approach a sharp corner and navigate it correctly. He showed me what to do coming out of the turn and that was exactly what I needed to learn.
I wish I would have taken this course four years ago because I probably would not have all of the scars on my legs today. My hat is off to Lee and I'm going back to see him and have him show me how to property jump and climb over rocks with confidence. That is next on the agenda. Again my hat is off to Lee and I will end by thanking him and saying what an incredibly skilled mountain bike instructor he is.
Dr. Armand Boudreau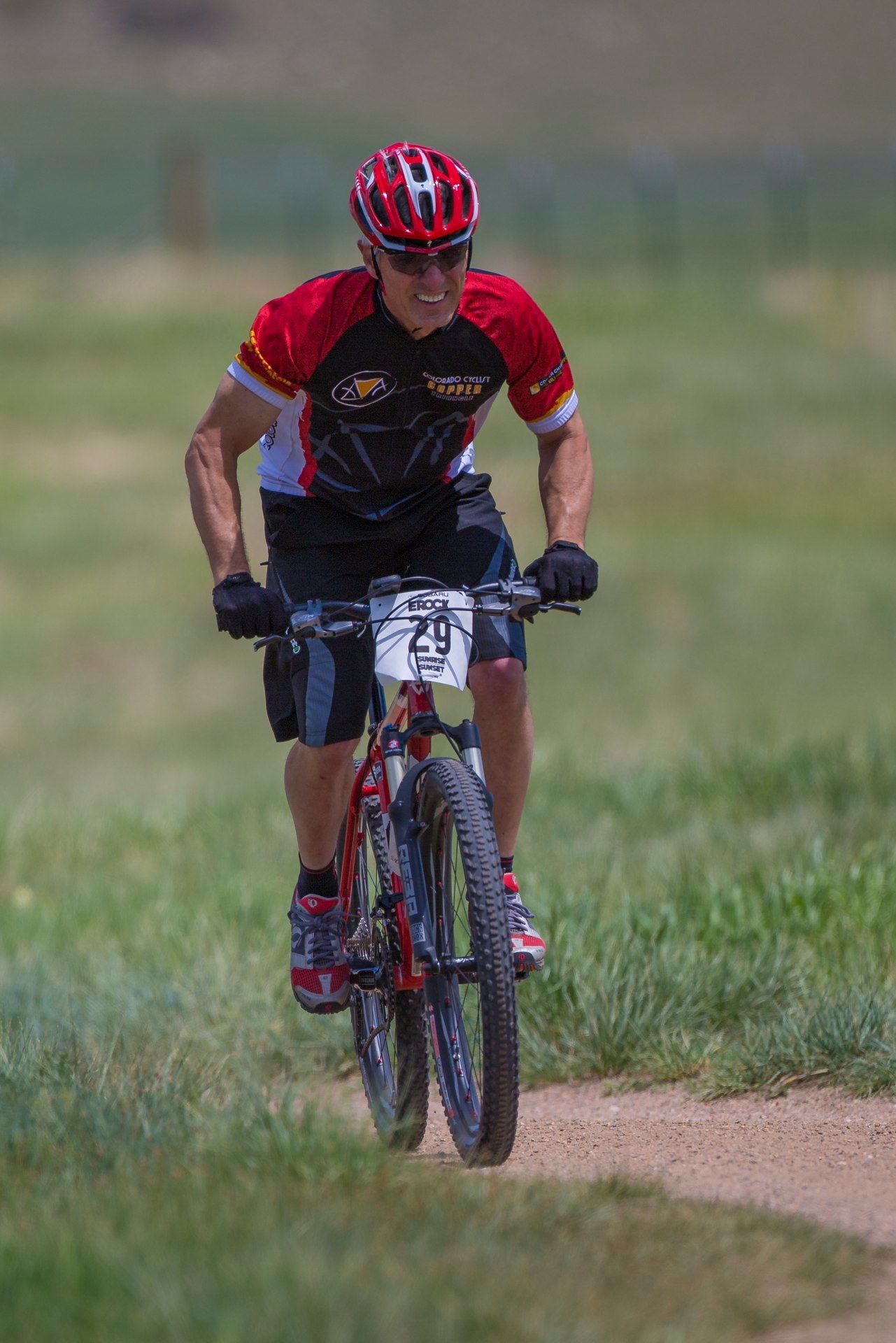 ---
37 Comments »






































Leave a comment