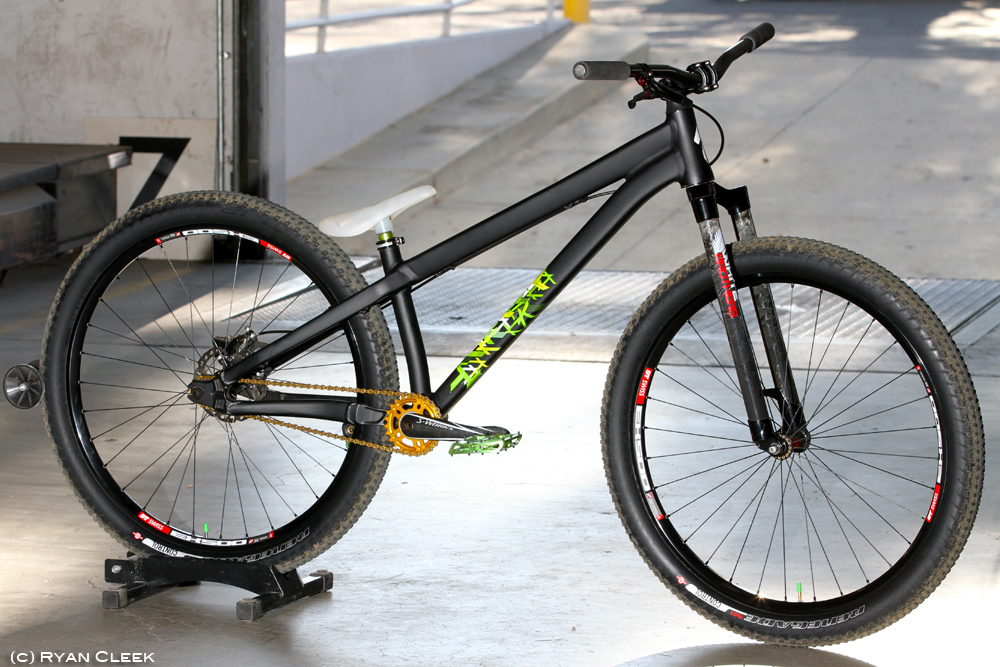 By now many you have seen the Specialized StumpPumper concept bike elsewhere on the interweb. Some hate it, some love it. I like it.
I think I'm gonna make a real-life concept bike: the P.PUMP
---
The StumpPumper concept
Build the ultimate pump-track-specific weapon. Jason Chamberlain at Specialized is credited with this beautiful disaster. Highlights:
• P.3 frame
• Light parts throughout
• White Brothers rigid carbon fork for maximum pump (pump tracks are smooth, right?)
• S-Works carbon cranks installed with an offset to lower the pedals below the bottom bracket.
• The effective bottom bracket height is only 10.9 inches.
• Total bike weight is only 17.9 lbs!
More photos and the original post here:
http://www.pinkbike.com/news/specialized-stumppumper-concept-bike-2012.html
Also see:
http://www.bikerumor.com/2012/02/08/specialized-intros-stumppumper-lightweight-pump-track-concept-bike/
What I think
• Pump tracking is rad, and it's extra rad to see Specialized push the envelope and try crazy stuff. This is where good, usable ideas are made.
• The Renegade tires shown in the photos work really well on pump track. They are light and fast, and they grip well in moderately loose dirt.
• For a pure pump bike, a rigid fork makes a ton of sense. As Chamberlain said, small bumps can be handled with tire pressure. My BMX bikes with 40 psi (considered low for BMX) feel really good on pump tracks—even non-smooth ones.
• I will soon be building a fresh p.bike. While I'm mostly a pump guy, this bike will be jumped, and it will hopefully be dual-slalomed (on smooth tracks). A Fox 831 is definitely worth 3.75 pounds of confidence. That isn't exactly heavy, and the lockout can be set to any threshold.
• As for the offset cranks, I don't know; I'll have to try. The lowness makes sense, but I sure like to pedal from time to time. I also like to switch feet.
• As Chamberlain said, most riders will be fastest on whatever they're most comfortable on. The StumpPumper is probably too extreme for most riders—that's the whole idea, to push the concept as far as it will go—but there's a lot of merit in a light, low and stiff pump track bike.
• If you really want a light and incredibly fast pump track machine, try a 20" BMX race bike. The 2012 Intense Podium XLT has an 11-inch BB height with standard cranks. Of course, most mountain bikers can't ride tiny wheels and 74-degree head angles.
P.PUMP?
Hmm, maybe I should turn my new P.3 into a real-life concept bike: The P.PUMP
• Light, stiff P.3 frame.
• Fox 831 fork set hella stiff.
• SRAM Rise 60 carbon wheels (I've been testing them on the Stumpy 26, and they are ridiculous).
• Reasonably light parts throughout. If I take a big hit, my shoulders are gonna fail before any bike part.
• Level cranks. Probably.
• Specialized Renegade tires. I like the 2.3s, but dare I lower the bike with a set of 2.1s? Wait, why not 1.9s?
Crazy!
Lee
---
Know more. Have more fun!
Join the leelikesbikes mailing list:
---
2 Comments
chance Says February 10, 2012 @ 6:34 am

Looks sick! I was/am looking a 24" for pump and jump, but the other day at the bike shop I was messing around on the spec p20 and with in a few mins, couple manuals and few bunny hops felt right back at home on a 20inch. That might all change on a pump track or at the trails but now I'm torn! I wish I could afford both! I raced BMX for many years then found MTB and was hooked, plus my BMX bike got knicked so there was no going back! Can' wait to see your build up!




Mr. P Says February 10, 2012 @ 12:42 pm

I was surprised by all the hate on the interweebs about this bike. It was like the bike was too radical and made people's heads explode.

But it isn't even that radical, it's just a great combination of creative solutions to a unique problem.

I love it.

I won't build one, nor buy one, but love the creative thought of the build.

P



Sorry, the comment form is closed at this time.