Hi all, I'm teaming up with Trail Head Cyclery to rock a skills clinic at Santa Teresa County Park in San Jose, CA on Feb. 17.
It's going to be sweet.
SOLD OUT
---
What
A rad skills session with me, Lee McCormack, and co-coach Lars Thomsen, owner of Trail Head Cyclery.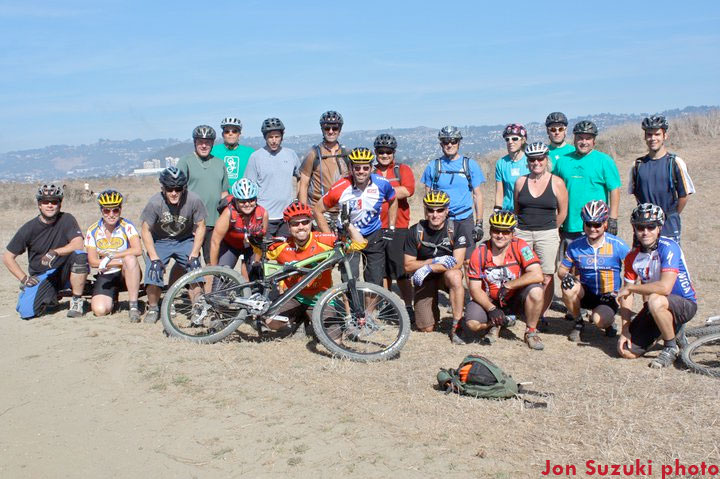 Coaching NorCal high school coaches. Lars Thomsen with the carbon Enduro, me with the patriotic jersey.
We will work skills and drills in the morning, eat some tasty lunch then apply our new kung fu on trails.
The curriculum will adapt to fit the riders. Expect to learn about:
• Body position
• Braking
• Cornering
• Going up and down obstacles
• Pumping terrain
• Reading lines and just plan ripping


Whoa, I can't believe I found this photo. Lars rips a DH run at Santa Teresa in 2003.
When
Friday, Feb. 17
9 a.m. to 4 p.m.
Where
Santa Teresa County Park in San Jose, CA
This is the ideal venue: with picnic areas, restrooms, drill areas and fun, varied trails.
Who
This clinic is perfect for anyone who wants to ride safer, more confidently and faster on a greater variety of terrain.
Why
You will learn awesome new skills and have tons of fun. No matter how good you are now, you're about to get a lot better. And have even more fun.
As I will tell everyone, "Yesterday is the last day you sucked."
How much
Cost is $200 per rider, with 10 riders max. This includes lunch.
Sign up
SOLD OUT
Using the below button, you can quickly and easily pay with Paypal balance, credit card or bank account. You do NOT need a Paypal account.
<!—
---
3 Comments
Brian Says February 21, 2012 @ 12:29 am

Santa Teresa is in my backyard; the trailhead is less than a mile from my front door. I even know someone who attended! Wish I had known it was happening…




leelikesbikes Says February 21, 2012 @ 10:05 am

it was pretty awesome. hopefully next time!




jeff Says March 16, 2012 @ 8:09 pm

Ah crap I missed this, you need to come back!



Sorry, the comment form is closed at this time.